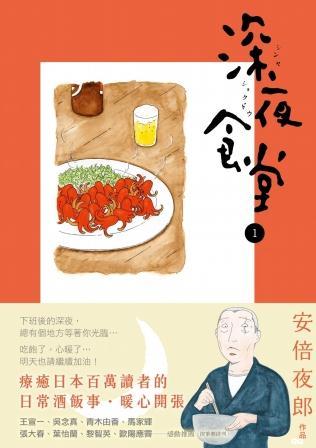 Chief Development Officer – Alan Kuo: "Bringing to you heart warming stories through simple homemade dishes and flavors in stores that are worthwhile to taste. Just like what I heard before: Our heart will warm up after we are full. So I recommend the Japanese drama that goes by the same name."

Sneak Preview – Late Night Diner (Japanese drama):     
Official Site – Late Night Diner (Japanese drama):http://www.meshiya.tv
About Late Night Diner   
Abe Yaro's Late Night Diner takes place at a diner that opens at mid-night and is located inside an alley in a busy district. Late Night Diner combines everyday cuisines and real-life stories of people from all walks of life that sometimes feel heartwarming and at other times sad. These cuisines served not only smell delicious but also are filled with the most innocent friendliness.     
The life stores are interesting yet diverse – they can be the innocent memories from a crime lord, struggles of an unrecognized female singer, or family baggage of a male AV idol. Each story begins after each delicious yet simple dish is served. In each episode, the core theme is centered on customers with different social statuses and from different classes, and Yaro attempts to connect plots using interpersonal relationships. Stores are spilled out, one after another, as each cuisine is served. I am so into this book that after a few pages, I even feel like closing the book, taking my wallet, walking down the stairs, and going out the door. Around the corner, there seems to be a late night diner inviting me with its soft yellow light.      
— Excerpted from Kingstone bookstore        
About the Author  
Abe Yaro  
Born on 2nd February, 1963, Yaro was an advertising director. After his Yamamoto Mimikakiten was selected to receive the Shougakukan New Blood Manga Award in 2003, he officially started his career in the comic industry as a professional comic artist.    The serialized Late Night Diner started in 2006. As the story is so unique with rich atmospheres in the plots, it has been modified for two dramas starring Kaoru Kobayashi as the main actor. Yaro was chosen again to receive the 55th Shogakukan Manga Award and 39th Cartoonists Association Awards in 2007.   
— Excerpted from Kingstone bookstore