5 years ago, at the age 20, Gamania Digital Entertainment established its goal to developed into an Eco-Internet Enterprise. 5 years later today, the Gamania Group is turning 25, and even more resolute in its future path. What hasn't changed is our DNA of a proactive attitude towards the changing of the times. It has also been Gamania's major mission to continuously communicate internally and externally in the past, present, and future. So that all the Gamanians share Gamania's values, and that outsiders gain a better understanding of "Who is Gamania". In this meaningful time of celebrations, this issue of G!VOICE is publishing an exclusive interview with Iona, our Director of the Corporate Marketing Office . She will speak from her point of view to talk about the Gamania character in her eyes and the company's future directions.
How Far We Have Come Since the 20th Anniversary: From Slogans Chanting to Participation, Not Quite There Yet
Our 20th anniversary theme was "have a GOOD TIME!", reinforcing diverse crossovers and inclusion. What is different in our 25th anniversary compared to that time? Iona thinks that over the 5 year period, Gamania has already achieved developments its gaming, e-commerce, media, and other areas. Internally, the Gamanians are more on the same page, but it is time to expand our influence, until it can have a real impact on various industries.
"At the time, we have to declare at the top of our lungs to say that we are an Internet company, but everyone might think that you are in gaming. Nowadays, from the points of view in media and general public, that more and more people consider Gamania to have contributed some results and have engaged in various fields. It's quite a big difference."
However, Iona points out that we're merely "participants" for now, and it's way too early to speak of achievements. She smiles and says, "Albert once said, for Gamanians define themselves as a success, it would probably have be at least top three of the industry. We are certainly there in gaming, but whether we can achieve the same status in other fields. I think we're still incubating."
Message to Outsiders: The Pursuit of Excellence, Caring for Different Values
In addition to our efforts in allowing the media and the general public recognize Gamania as an Eco-Internet Enterprise, the corporate culture that Gamania has upheld in a quarter of a century has always been the core message to the outside world.
Iona thinks that as Gamania grows stronger, it also makes a point of "caring" for a variety of important things. We pursue excellence and serve our shareholders just like any traditional corporation, but we also strive to care for our employees' work-life balance, reach out to the community to spread values such as dare to adventure, the joy of trying new things, and others.
When asked about whether Gamania is more "humanistic" than other peers in the industry? Iona smiles and responds, "I think we have always been competing more than just in the gaming industry, but everything. There are so many companies in Taiwan, if everyone still thinks that Gamania is a unique existence, only then is it worth the value for communication."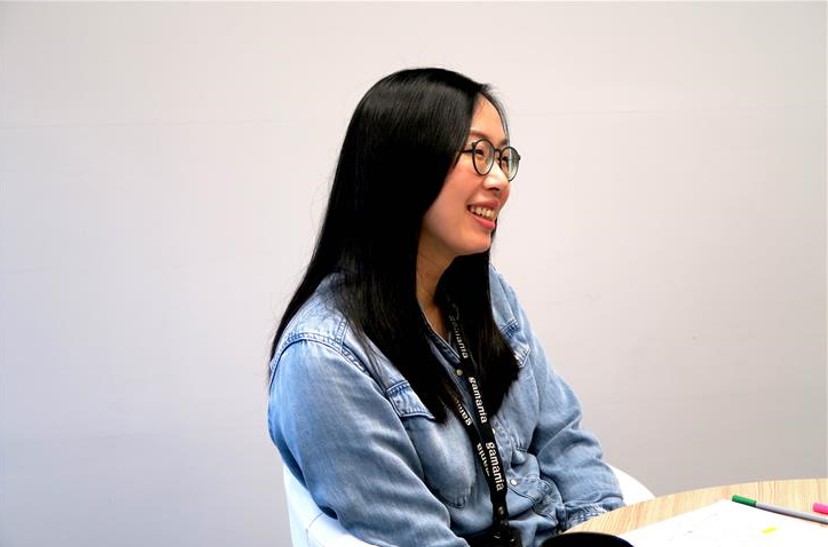 ▲Iona smiles and responds, "There are so many companies in Taiwan, if everyone thinks that Gamania is an unique existence, only then is it worth the value for communication."
Constantly Trying New Tools: Gamania will Launch Video Channel
Iona indicates that communication is the transmission process from A to B through a medium. It must evolve with space and time by constantly trying new tools and finding the right medium for promotion.
She mentions that the younger generation today has a very strong awareness of segmentation, "Aside from traditional methods, we might start to focus more on media segmentation and communications segmentation. If I were to say what has changed from the past, this area has a rather significant difference."
Gamania Group is planning to debut on YouTube this year!
"This is in compliance with the people today who stop receiving information through words, but rather images." Iona explains, "Therefore, we will create even richer multimedia material – using the most easily understandable tool, to allow more people to willingly receive Gamania's messages, building a more three dimensional corporate image."
She gives one example, would a job seeker want to know what type of company Gamania is? What would this job seeker value? How do we actually present our brand values? Then, maybe we shoot a video about a job seeker coming to the Brand Center to interview for an open position, about what this person actually experiences, or a video of "A day in the life of Ahbin" about our Brand Director, and incorporate the messages we want to deliver within the video. This asset can also be used to communicate with the media at the same time, allowing reporters to gain a certain level of understanding of Gamania prior to an interview.
Iona thinks that encouraging different approaches is one of Gamania's unique style, so PR can also be conducted in a way different from what you normally imagine. "Our department has never imagined our missions using a very fixed method."
Message to Gamanians: Only You Can Define Yourself & 25th Anniversary Party
So, what is your main message of the internal communication? Iona responded frankly that this is a very difficult question, because nothing has changed. The message is still dare to challenge, the pursuit of excellence, and work-life balance. She thinks that "Dare to Challenge" is a wonderful phrase that has a different meaning for different people, at different times. For instance, our current challenge is not to be restricted in the gaming industry, but to think about ourselves and the company to which we belong, what kind of role could it play in the entire Internet industry?
"At the year-end banquet, the boss said that only Gamanians can define themselves, I think that's quite important."
Next up is what we are most excited about, the 25th Anniversary Party planning! In April, each Gamanian will receive a limited gift bag. In July, there will be an official anniversary party, to which Gamanians and friends in the media and the business partners will be invited. During summer time, Gamania will be celebrating with players at the Taipei Game Show and Comic Exhibition. In November, the "Gamania Day" will also be held. The whole year is going to be quite the celebration marathon.
She says that she hopes that this gift bag will display a strong Gamania character, delivering the Gamania values. The company's decisions to partner with Taiwanese craft beer brand Taiwan Head Brewers, Spring Pool Glass, and other brands are all to promote young brands with local Taiwanese culture. She especially mentions the young people at Taiwan Head Brewers are very hard-working and professional. The collaboration process with them created some amazing sparks. During the interview, Iona secretly took out the draft graphic designs of the limited Gamanian gift bag, in which the protagonist is the Gamania-exclusive beer that resulted from the Taiwan Head Brewers collaboration. "It will definitely be mandarin flavors, don't worry." She smiles and says, "A very local flavor has also been added. It's not fun with only a mandarin taste."
These are not only for fun, but also the "ceremonial" gesture allows all junior and senior employees too personally feel like a member as a "Gamanian".
Corporate Culture Heritage: Instead of a Description, Let Them Participate
As the company grows into a thousand-person corporation, it is inevitable to have staff turnover. How do we allow employees of various level of seniority to continue to follow Gamania's corporate values? How do we allow subsidiaries to find their relationship with Gamania? Iona thinks that Gamania is an inclusive company that allows different people and different departments to preserve themselves with ease inside the greater corporate values.
"The company is growing and many new employees join each year. Under this condition we still need to steadily and correctly deliver the corporate culture. This is something I think the departments must implement."
She mentions that the newcomers are getting younger and younger. Instead of a long and tedious description, it's better to just let them participate in the changing process. For instance, the YouTube that is planned to be launched this year and the first open house, pets day, and other internal events are all new attempts. She hopes that Gamanians will give direct feedback.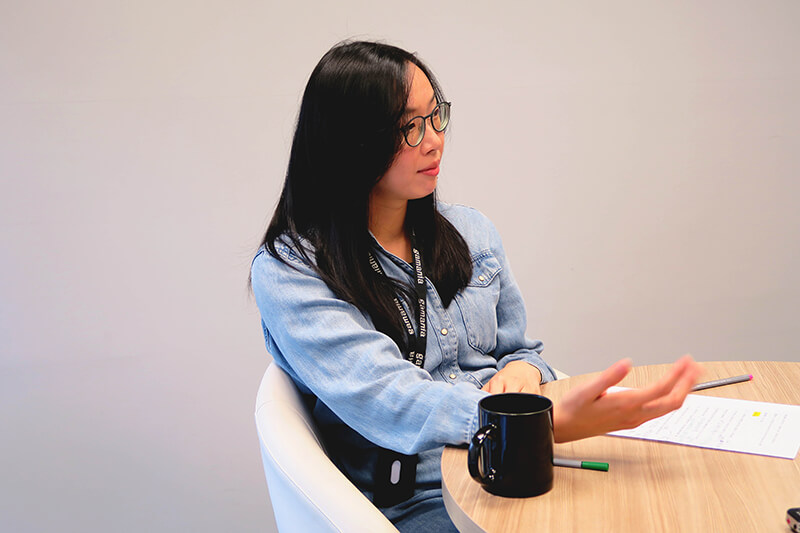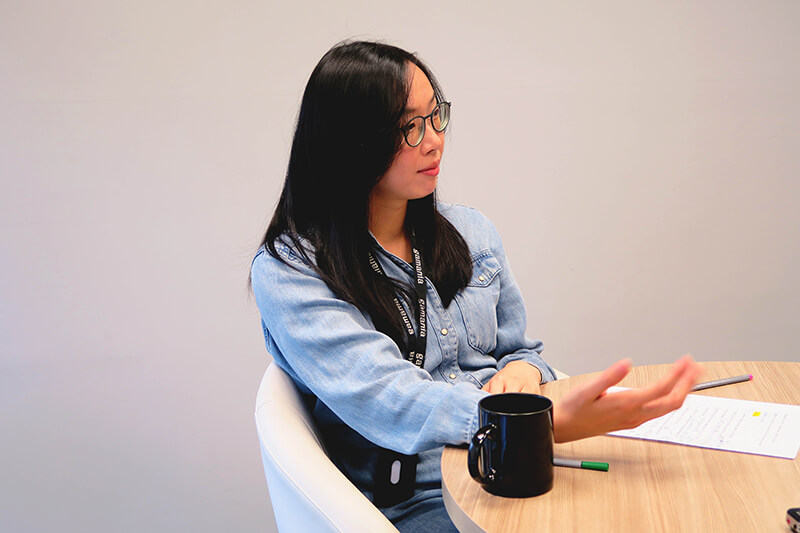 ▲Iona mentions, "Newcomers are getting younger and younger. Instead of a long and tedious description, it's better to just let them participate in the changing process."
25 Year-Old Gamania, 30 Year-Old Gamania
When asked if Gamania is a "person", Iona thinks even though that it hasn't had an easy process growing up, Gamania still retains its character looking forward to new things and unrestrained at age 25.
"And 25 is still a young age. At 25 years old, a normal person has begun to feel like he has a direction and needs to develop his own strength to advance in the right direction. Whatever the age, anything outside of the plan could happen, but we have the kind of attitude that is fearless towards challenges."
She predicts that the 30 year-old Gamania will still retain the same characteristics, and that beanfun! services will be more deeply rooted in people's life.
"I think it might become the type of service that a certain type of people must use after they turn on their phones. Player? Young people? Or every Taiwanese person would want to use it? This actually has to depend on each Gamanian's devotion, contribution, and hard work in the next 5 years. But it will root itself deeper into users' life, that is without a doubt."
What will a "young adult" Gamania be life in the distant future? That will be left to your imagination and expectations.