I've been blogged about core ideas, the importance of core ideas and how to create them since I launched this blog last year.
Before I get to the script production, I'd like to share with everyone on "how to present your core ideas"
Everyone is either the creator or manager of the games. To explicate your ideas to make the team, clients or your supervisors can understood is called the proposal. The purpose of the proposal is to make people understand what you are trying to say and subsequently identify with you.
There are many ways to raise a proposal. I'll share with you the most frequently used materials during JWT's creative thinking practice and also the mostly recommended method by advertisers and directors.
Postcard Illustration
Postcard Proposal is most suitable for explaining a promotion idea, or film/commercial concept.
What is it called a "postcard proposal"?
Postcards often contain pictures and there are also receivers, senders and text for the receivers.
So the postcard proposal goes like this:
Graph/Picture: Key visual of the core idea
Receiver: Consumer
Sender: Product
Text: Message you wish to convey
Example
A new game company launched a revolutionary handle design called X-sony, targeting consumers who are older or not familiar with games.
Core idea: a game console that is easy to use for all age range
So, how do we raise this propose?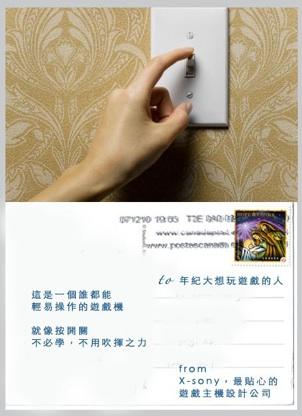 Please see the above illustration
If I were doing the postcard proposal, the "switch board on the wall" will be set as my key visual to illustrate that to use the game console is as easy as switching.
Before you go on to give further details, the postcard proposal could help you explicate an idea with the simplest sentence and a picture in the shortest amount of time.
Sounds exactly like doing a commercial right?
This is not a commercial, it's just one of the methods used to explain your idea.
http://www.youtube.com/watch?v=Tq5WOxoODDQ&feature=player_embedded
Let's take a look at the official trailer made by Tera. If you were the creator of this PV, how could you present the core idea?
Column Writer
Bruce
Bruce participated in various domestic and international commercial production, film launch and theater marketing; worked in creative script team of Beijing Branch, Densu Group (Japan); worked as a director for Gamania. He currently served as section manager in product development department in GJP.