The term growth hacker, coined by Sean Ellis in 2010, has not been gradually introduced to Taiwan until the last two years. The first Growth Hacker Seminar Taiwan was held in 2016.
If you google "growth hacker" in Chinese, you will get 2 million related results, and if you google the term in English, you will get a lot more. But what exactly is growth hacker? How do growth hackers help with brand growth? Do growth hackers guarantee a successful brand in the digital battlefield?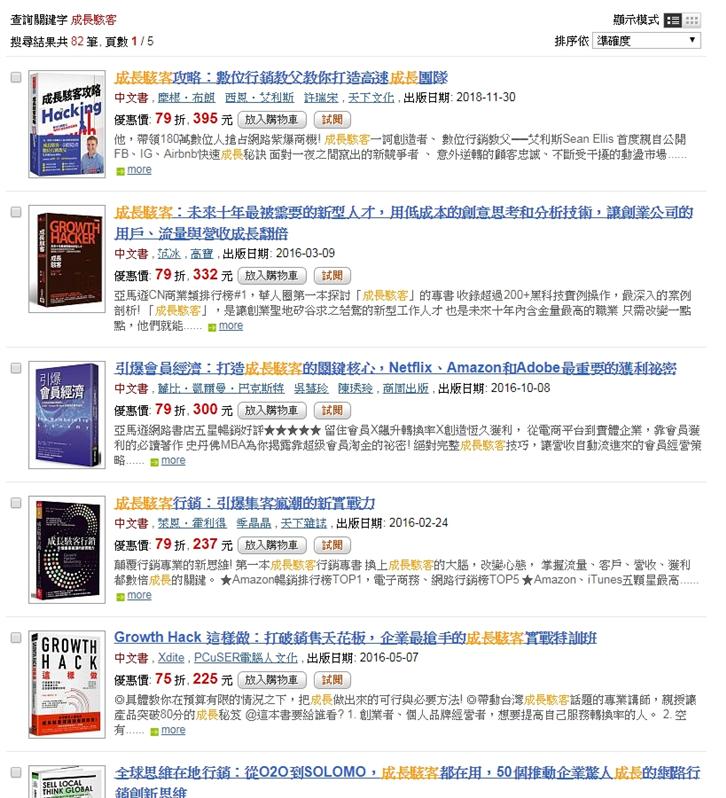 ▲When you search for "growth hacker" on the Books.com.tw website, as many as 82 results of related books pop up in 5 pages

First of all, let's take a look at its definition on Wikipedia:
"The term growth hacker first appeared in 2010, and is particularly prevalent with technology startups. It employs innovative and analytical thinking and social media statistics to boost the product sales and customers. As part of digital marketing, growth hackers utilize methods such as optimized search engines, website analysis, and content marketing. Growth hackers focus on low-cost innovative alternatives to replace traditional marketing, e.g. using social media and viral marketing instead of buying advertising through television and newspaper."
After reading the 300-word definition, many people, I believe, still cannot figure out the trick behind growth hacking, or the difference between it and the digital marketing we are doing right now. The most critical difference, I think, is the thinking model. Growth hacking is completely goal-oriented, so all burdens of a brand should be shuffled off and any methods that can lead to growth should be tried. If a video can grow customers, then make a video. If optimized UI/UX designs can lead to customer growth, then optimize them. The methods are not limited to digital or traditional approaches, while big data is considered as the supreme law. Growth hackers pursue the goal in a very scientific way and quickly adjust the investment strategy that is not accurate enough. Most importantly, they minimize the marketing cost while achieving growth
Growth hackers: to drive brand growth with a marketing cost close to previous ones
The initial growth hacking can be roughly divided into four parts. A/B test tools are often used in all of the four parts for rapid systematic analysis and adjustment.
1. Optimization of new customer experience
It minimizes the churn rate by enabling new customers to have great experience when using product-related services. It contains web/APP user behavior analysis, new customer registration process design, UX (user experience) design, new customer problem solving, etc.
2. Optimization of promotion process
Human nature and basic consumer behaviors are utilized to increase new customers.
3. Optimization of the cost for new customer introduction
Plenty of tools are available, such as Google ads optimization, FB ads optimization, search engine optimization, retargeting ads optimization, ad copy optimization, ad image or video design optimization.
4. Optimization of social media marketing effects
In traditional marketing, creating issues is the job of public relations practitioners, but nowadays digital marketing has to use this tool. It is what netizens call "setting the trend."
Case 1: Facebook


▲After a long revision process, the cover image on the fan page could finally be shown properly on both mobile phones and desktops.
Facebook users in Taiwan are so plentiful that revisions are nothing to be surprised at. It seems that revisions are intended for the improvement of UI/UX (user interface/user experience), but actually it is done partly for the sake of growth hacking. As a result, you will find that it is Facebook's consistent approach to make revisions by batch, region and country. That is the so-called A/B test, through which Facebook compares users' usage before and after the revision and go from there. In addition to improved user experience, revisions may be used as a subtle way to force business owners to purchase advertising. That is how growth hackers make a profit.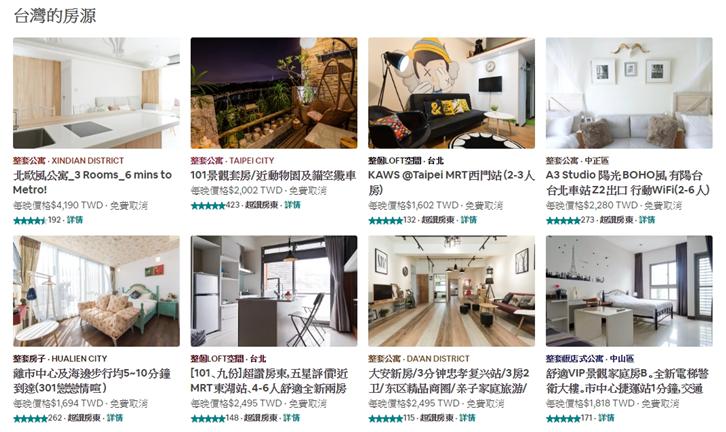 ▲The free photography service alone makes the number of nights booked on Airbnb grow eight times.
Three years after its founding, Airbnb's customers grew steadily, but its founders Brian and Joe were not satisfied. They flew to New York in July 2010 to visit their hosts in person. To their surprise, they found many pictures of the listings looked worse than they actually were. Therefore, they initiated a new program by offering 20 photographers to reshoot pictures for their hosts by reservation and significantly improved the pictures of the listings.
A simple discovery and initiative helped the number of nights booked on Airbnb grow eight times within a year with the total number of tenants hitting a million. Airbnb started to grow fast again. This is the critical point to "change the growth rate" we mentioned earlier: growth hacking. It not only helped Airbnb grow but also increased its impetus dramatically. In May the same year, they acquired Accoleo, a German flatshare competitor, and raised $112 million from the public.

I chose the two brands familiar to Taiwanese as examples to explain to you that growth hacking is not necessarily grand and pioneering brand initiatives. On the contrary, we should gain insight into behaviors from old and new customers to put the change factor in the use or purchase process and change the growth rate.
In brand marketing, the battle between big data and creativity has continued unabated in recent years.
I think growth hacking is one of the reasons. Some people say growth hacking is the so-called digital special medicine for brands, but I must say that fragmented ideas will kill a brand instead. No matter in an era of traditional advertising or digital advertising, deep insight into customers needs to be obtained to create advantages. The difference lies in the understanding of evolution of tools. To obtain information on behavior patterns, FGDs or surveys were conducted in the past, but today, it is gained through big data, something consumers take lightly. The most important next step is to solve problems with creativity. Only then will you have the chance to hack into the heart of consumers and make them love you to death!