"Exposing one's own shortcomings is a good business." The statement is based on a pivotal core presumption "The product is not for everyone." It sounds like nonsense, but many marketers ignore or don't want to admit it. To put it the other way, the statement means "Only some people are interested in the product." This way, it is easier to understand the idea.
Take lemon for example. Lemons always taste sour, but customers ask, "Does the lemons taste sour?" Similar complaints include: small cars, meagre lunchbox, expensive product… You may come up with a reply that caters to customers and avoid the generally considered "shortcomings", and believe that it will do the trick just like someone whistles in the dark to take on a brave front. There is no such thing. But what can you do in such circumstances?
Generally speaking, marketers always stress the benefits of products. It takes not only bravery but also correct marketing ideas for you to admit that "my lemons tastes really sour, my cars are definitely small, my meal is to keep you hungry, I purposely sell products that cost a small fortune…" Let's take a look at several examples that expose the disadvantages and turn them into advantages.
Boredom is the biggest disadvantage for a tourist spot.
The Nebraska, USA has launched a disadvantage-focused advertisement, "To be honest, not everyone likes this place." It attracts tourists with boredom. She said, "Fortunately, there is nothing to do here. In here, we believe only bored people feel bored. So we invented our own games. For example, we found the livestock tank floats on the water. Isn't that a boat? After that, tanking became a good way to drift on the river. Nebraska is not for everyone":
Or, "There are two types of people. One type thinks Nebraska is merely boundless corn fields of 200,000 square kilometers, while the other type does not think so. But we find the second type is more interesting. They try to discover 'what makes here so special.' We don't intend to persuade everyone, except you." The most striking feature here is the plain and unchanging landscape (against the backdrop of the grandiose wasteland):
The above two examples are all about reversing the impression of this place that is generally considered negative in the past, by finding out its traits and attracting the target audience. Just like some people like busy spots, while others like tranquil places. Some people like the feeling of crowdedness, while others prefer loneliness. It is not a matter of right or wrong, but a matter of personal preference.
Yet another example is more interesting. She turned the negative comment of a netizen into a positive one in one second.
When receiving negative comments from netizens, we normally get upset or try to prevent other netizens from noticing them, let alone a one-star rating! However, some brands are not afraid of negative comments. Instead, they take advantage of them. That's really cool. The image below is an advertisement of a ski resort "Snowbird." It shows a person slid down on a ski slope on stomach with a one-star rating from a netizen. He said, "I heard Snowbird is a very difficult ski resort. But this is way too difficult. Every slope is steep and filled with trees. I doubt if anyone could ski here. It is not fun at all!"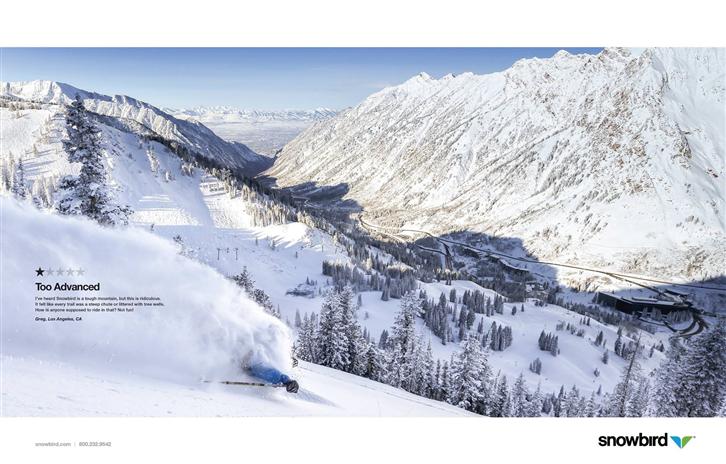 This advertisement reminds me of the lyrics of a song "You're dead wrong. Do not come. It is an insult to my beauty." It roughly means the same thing. For someone who is not good at skiing, this is certainly a shortcoming. However, for an expert skier, isn't it an exciting challenge that they are eager to try?
Likewise, the Snowbird advertisement turns the generally considered shortcoming into an attraction for experts.
It is because the "shortcoming" for some people is the biggest advantage for others. The car is small; therefore, it is easy to park and saves fuel. If you are looking for a small car to drive in a city, it is just for you. The meal is small because it is low in calorie. It makes a perfect diet and provides right nutrients. The product is expensive because we take everything into account for our customers. The quality is stable and durable. So you can use it with peace of mind. It is designed for people who have no time for trivia…
The marketing communication is about creating a brand image so that "customers will think of your product at the mention of a particular feature," such as the most difficult ski slope, the sourest lemons, the car most suitable for urban areas, the healthiest meal, the most durable suitcase, etc. Let's go back to our topic. The shortcoming exposing concept is not about telling the disadvantage, but about specifying a different market segment from others. Different people have different needs. Identify specific target customers and move toward the direction. Be determined to be a big fish in this small pool. When you do it continuously and repeatedly for some time, customers will think of you when people talk of a certain feature.
So, don't fear "shortcomings" unless no one favors the shortcoming. For products, no trait is the biggest shortcoming!