Have you heard of the fairy tale Jack and the Beanstalk? A common bean surprisingly grows into a giant bean tree. The curious Jack climbs up the tree into the clouds, where a new world now opens to him. This is like how beanfun! began. Started out as a little bean, it now spreads all the fun. From the time its closed beta was released in 2009, beanfun! has been inseparable from Gamania's gaming world. For Gamania's gamers, beanfun! is Gamania and the other way around.
In 2018, beanfun!'s branches continue to extend, working to integrate more digital features into our daily lives. With a solid base, it is taking more "Jacks" to the upgraded "new world"!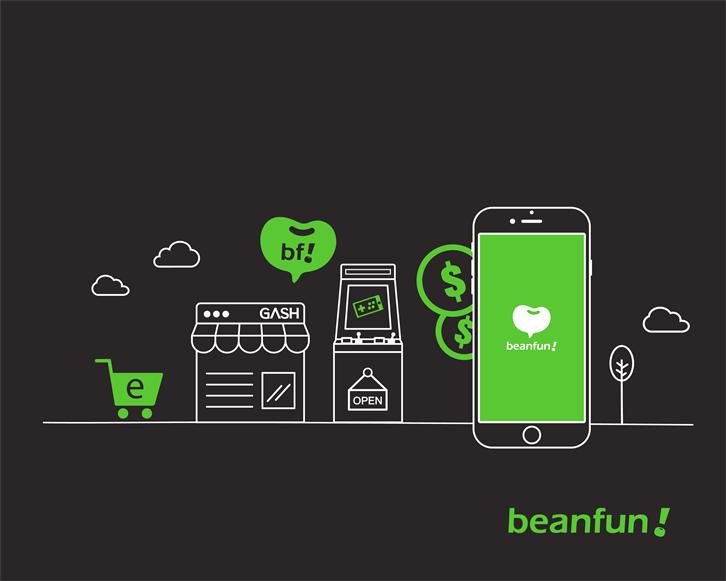 ▲The newly upgraded beanfun! integrates more digital features into our daily lives
【Past Tense】Another word for Gamania – beanfun!
▲beanfun!- mainly a portal site of games in the past
In 2010, beanfun! set the core brand value "Grow Your Fun World!", expanding the world of fun and coloring gamers' lives. To be more able to cater to gamers' core needs, Gamania has worked hard to cultivate the gaming portal site, beanfun!, integrating all its games under it. Online single account log-in is all you need to access multiple popular games, and convenient payment flow mechanism has also been set up. Whether you want to verify game accounts or to buy GASH points, gamers only need one account, making it easy to switch between and log into all the registered games – no more hapless searches for the system icon in the vast icon ocean of the desktop.
When beanfun! was first launched, Gamania realized that most gamers require services for more than a single game at a time. Considering browsing habits of the new generation gamers, beanfun! began to include more services, such as that of music, animation, movies, game walkthroughs, etc. So, a single portal now leads gamers to a brilliant entertainment world. Also, it's worth mentioning that besides Chinese and English, beanfun! also launches versions for various languages. So it is becoming a digital platform where gamers from around the world gather, fulfilling Gamania's ideal "Play Anytime, Play Everywhere".
【Present Progressive】Whole new services – beanfun!
In 2016, Gamania, which started out as a gaming company, was entering a brand new era. Having expanded its business into varied scopes, it aims to become an all-encompassing Internet corporate. With the help of new resources and different types of subsidiaries joining Gamania, beanfun! has evolved in 2018 and is launching new services. Apart from the previously existing feature of convenient gaming verification, exciting new features related to communication, community building, E-commerce, payment flow and data analysis have been added, creating an all-encompassing platform indeed.

▲ beanfun!'s five major features open new worlds
Evolution: Ever-improving and thoughtful intelligent communication 
The upgraded beanfun! now has an optimized instant messaging feature. It does more than a common messaging service would offer – namely allowing users to text, make calls and shop at sticker malls; it creates various "considerate" special features. Say, if you suddenly have things to say, yet the occasion or timing does not allow it, this is when the "future message" feature becomes useful. It would help you schedule a time to send your words, so that you wouldn't forget what you wanted to say ever again. If you have some top secrets that you just need to get off your chest, the "private message" feature would come in handy – the message would delete itself when it's been read, preventing your conversation from leaking. Besides, if others attempt to take a screen shot, you would get a "notification for warning". The rigorous measures protect user privacy, creating a more human messaging experience for users.
Social chain : A social hotspot to connect emotions in an indifferent city 
In this Internet era where communication is easy, people tend to develop many virtual identities, being their different selves on different social platforms to express themselves. Having observed this need, beanfun! develops a practical social feature. Users are now spared the inconveniences of switching between different accounts; now, with a single account, they can create multiple billboards of different topics. Such convenient way of social convergence also makes it easy for companies to create official online groups, because they no longer need to go through the trouble of multiple verifications. For the general users, whether they wish to discuss about business matters or just to chat, they can always rely on beanfun! to provide smooth communication!
Furthermore, beanfun! has an original social internet feature – the cross application group feature. Based on the user's purpose, whom they want to talk to (strangers/friends) and interest scenarios, three types of groups apply. There is the familiar "general group", and the "wild group", which you can search on the map (in this case, you won't miss any of the fun around you, and you get to meet new people with the same interests to chat with). Lastly, there is the special "anonymous/pseudonymized chat group" inspired by the guild and team chatting channels in gaming. With it, users can build their Internet personalities freely, chatting in an environment where privacy is guarded. Whether you are inside or outside the gaming world, you can always keep in touch with your comrades!
Consuming: Lower threshold for opening stores, adding small but certain happiness to your life
As consumption patterns are shifting and social interactions becoming more and more essential to life, online group shopping has become an indispensable part of modern life. So on beanfun!, Gamania integrated the abundant E-commerce experience of its "Jollywiz" company to create a social shopping site "Jollybuy" that combines the concept of social networking and E-commerce. With beanfun!, it doesn't matter who you are or what your profession is, you can quickly set up your own store. So having a beanfun! account means owning your own online store. The platform has various design models and provides various marketing and payment flow devices. Your store is wherever you are, so it is very convenient to run your own business on "Jollybuy".
As part of Gamania's "all-encompassing" concept, the social E-commerce platform "Jollybuy" is more than a place to open stores, it also provides a "group shopping" feature. When you see a product you like, you can open up a group as a group leader. When you click "share", you can share the discount with your friends. When a group order is placed, you can even win a bonus. In this busy modern world, when you can shop with your friends in your free time, you could indeed call it a small but certain happiness.
On the social E-commerce platform Jollybuy, you could switch between buying and selling easily and experience the fun of "group shopping" and "running your own store"
Cycle: Quick access to payment flow through App
In order to let our many users enjoy the convenience of modern life, Gamania also added an original payment tool on the new beanfun! interface, called "Gamapay". More than 30,000 consumer channels (cooperating stores include those from food, clothes, accommadation, transportattion, education and entertainment field) now accept Gamapay, including the commonly seen convenience stores and department stores. You could also use it to pay utility bills. You could make payments for almost everything in your daily life. With your smart phone, you can navigate through your daily life effortlessly.
Through the combination of beanfun! e-wallet and Gamapay, the convenient payment flow services provide retail outlets the comprehensive payment flow solutions. When a consumer channel joins beanfun!, it can purchase and issue joint deductible credits equivalent to cash value and set expiration date for them. They could be converted to shop online easily. The unused credits could also be returned to the stores once they are expired. Through the integrated application of One App, marketing budgets can be used more flexibly and fully, creating more powerful payment flows and cycles.
Nourishment: Accumulating strength through big data; nurturing collaboration within industry
Gamania has been cultivating the Internet industry for years and accumulated abundant experiences and a lot of members and data. The revolutionized beanfun! not only integrated the varied Internet services under Gamania, it also provides our collaborators with a completely open data platform. Through a specialized intelligent analysis back-end, members can retrieve data and information directly. This helps sellers explore user behavior history and grasp business opportunities. By pinpointing potential clients, they would create more accurate advertising moves and create bigger business potentials.
Next step in the future: Forward-looking project
Through the upgraded beanfun!, Gamania has demonstrated that through its media strength cultivated over the years, it has created a completely open and all-encompassing ecological system. It is hoped that through selfless sharing, start-up companies can learn from Gamania's operation experiences in various fields. In this way, no one needs fight on their own in the process of facing the future generation. What's more, it will facilitate collaboration in more industrial resources, and together we can create a forward-looking and "limitless Gamania" vision.
But Gamania's progress does not stop at the ongoing beanfun! With innovation as its core, Gamania is always thinking about which is the next field onto which it should set foot. We always try to envision every future possibility regarding human beings, technology and the environment. This is how the outlines of the "forward-looking project" came about. We need think about how to use our corporate's current resources to connect to technologies from other industries to create a force of momentous synergy. This is not merely the issue we should think about in the face of new trends; this is the goal Gamania should work to achieve. With the help of the "forward-looking project", it becomes the motivation to achieving the corporate vision of "co-existing with the environment and exploring limitless possibilities of life".
▲The logo design of the "forward-looking project" is inspired by the infinity symbol, symbolizing the limitless possibilities in Gamania's next steps