During Gamania's 25the anniversary celebrations, Gamania Talk also prepared a theme to go with the festivities, and invited the renowned corporate brand expert Winnie Lan and Gamania CBO Eric Chen to speak to the company. Winnie had previously worked with Gamania and she shared brand management tips along with her rich set of experiences. On the other hand, Eric talked in depth about Gamania's full story.
Winnie Lan: A brand is a value commitment that the customer can experience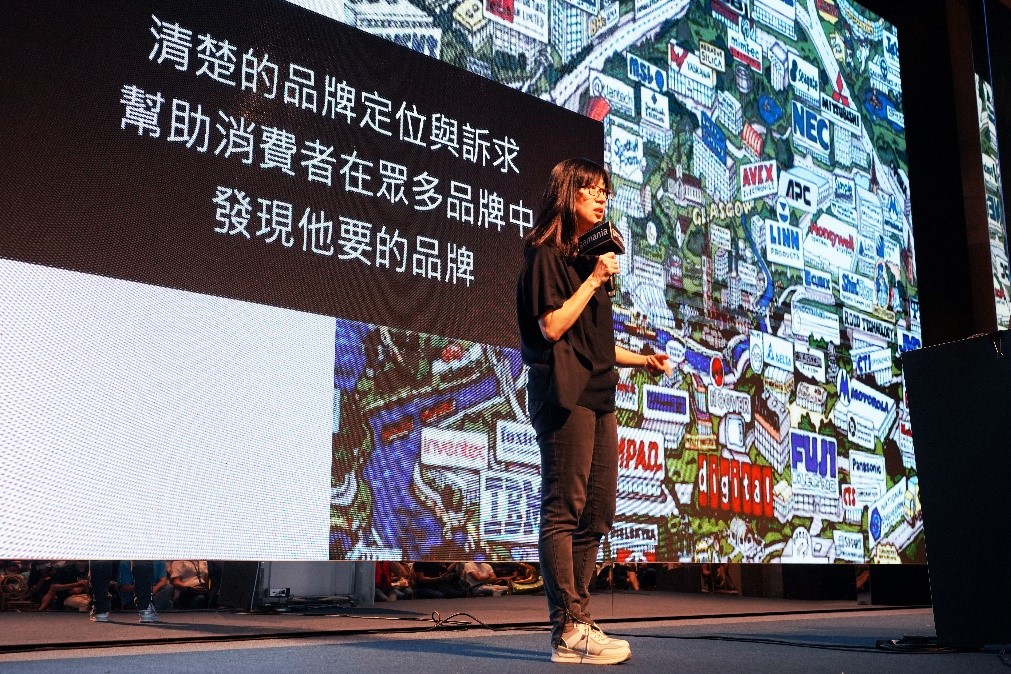 ▲Corporate brand expert Winnie Lan believes that brand management requires the skills to simplify complicated things.
Winnie Lan was previously employed by industry leader Ogilvy for 28 years, and is currently the Chief Consultant at Dentsu Aegis Network. She smiles and says that Gamania "set its eyes on her" in 2004, and invited her to host a workshop, which started her collaboration withe Gamania.
Winnie seems to have dressed to match the Gamania style. She wore comfy, light and brilliant clothing, just as clear and simple as her speaking style. She speaks about her career starting from consumer surveys to brand strategies. Nearly 30 years of her life has made her realize that brand management can be simplified into 3 things: marketing, strategy, and communication.
Brand simplification refers to 3 things and 4 tips
Her keyword for "marketing" is "choice". Whether it's for the target, packaging, or price, only the person that dares to choose and chooses correctly is competent and be successful in his or her job. The keyword for "strategy" is "difference". Find your approach that is different to your competitor's. The keywords for "communication" is "relevance". What you speak about must be something relatable to the consumer, because people only care about what they can personally relate to.
Winnie describes finding the key of brand management and simplifying brand management are like sticking a microchip into the consumer's mind. "My favorite definition is: A brand is a value commitment that the customer can experience. When the customer repeated verifies and is satisfied with commitments, this brand is established in his or her life."
Winnie continues to share 4 brand management tips. The first is to extract the core of the brand; for example, the brand is established if you can clearly describe your brand with three phrases. The second is to clarify the brand vision and mission, which are its value and objective. Only afterwards can brand has a soul and a reason to move on. The thirds is to find its position, which allows consumers to find and identify you from numerous brands. The fourth is interaction, making a connection with the consumers. You must be able to tell the consumer what you can bring to them a simple slogan. For instance, Disney represents "A dream come true", offering everyone a dream within your reach.
"Taiwan is unable to manage its brands well because most people are busy running a business without writing the brand book. Every team member is only able to guess the brand using a vague image."
We can learn from the successful youthification of Mercedes-Benz
Winnie uses Mercedes-Benz, her long-term brand customer at Ogilvy, as an example. When she took over the account in 2006, Mercedes-Benz was the symbol for the "old fashion rich" in the minds of Taiwanese people. The newly rich youth did not want to share a brand with their bosses and dads.
"The main issues to the youthify Mercedes-Benz within a year or two, otherwise we wouldn't be able to boost our sales for the new younger models. Another issue was to retain the existing asset (old customers) in the process of youthification." In order to solve these issues, they ran several sensational brand campaigns. There was the "fake news" in the headlines that showed a crop circle in the shape of a Benz logo in the farmlands of Chiayi. Another campaign was bringing the product directly into nightclubs and other sites where youth gathered to eliminate their pressure of walking into a car dealership. There was also a commercial event held for the first time ever at the Chiang Kai Shek Memorial Hall, which was thinking outside the box while the solemn and grandiose venue retained the "classic" style that is essential to the old customers.
Finally, Winnie comes to the topic of Gamania, how it needs to think clearly about what key items it should sell during the transition from a gaming company to a comprehensive ecosystem Internet company, so that the general public can quickly realize "What is this Go Beyond Game Gamania? This is just like Mercedes-Benz back then, facing the most crucial issue of a brand transition."
Eric Chen: If you want to lead the market, you have to take risks that no one has ever done before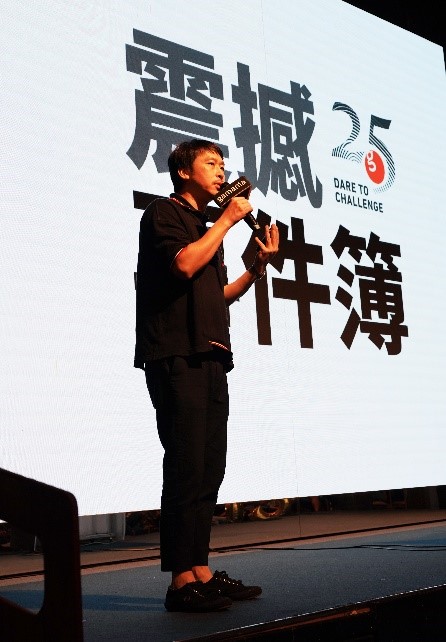 ▲Gamania CBO Eric Chen becomes a storyteller today and talks in depth about Gamania's full story
After the wonderfully informative talk about branding, our beloved CBO Eric Chen (Ahbin) starts to recount the story of Gamania Digital Entertainment. "Back in 1995, Gamania Group founder Albert Liu and his three best friends founded a company called Fullsoft in an apartment in Zhonghe."
"Convenience Store" brought the first pot of gold and gave birth to Gamania Digital Entertainment
After finishing his studies in the U.S., Ahbin was surprised to find people in Taiwan that knew how to make video games. It turned out that they were taking advantage of Taiwan as the world's greatest computer manufacturer to occupy a portion of the PC game market that exists apart from the arcade machines, handheld and at-home consoles, which were the mainstream at the time. The first bucket of gold that Gamania earned in its crucial development period was from none other than the 1999 PC stand-alone game "Convenience Store". The success of the game was due to its content and a volume purchase pricing scheme that conquered the widespread counterfeit discs market and sold an astonishing 1.2 million copies in Asia. The outstanding performance of "Convenience Store" made Taiwan start to focus on the potential of the gaming industry and the unlimited possibilities of gaming development. The unknown "Fullsoft", in danger of dissolution, also gained a chance at rebirth and became "Gamania".
In 1998, Fullsoft collaborated with Star Chinese Channel on the Taiwanese gaming program "Game Club" hosted by Tien Hsin (天心). Fullsoft swiftly became "Gamania Digital Entertainment" in the following year, of which the identifier design received the National Design Gold Award and was honored by being included in the Taiwan Design Best 100.
"Lineage" Introduces Largest Gaming Server Room in Asia, A First in Taiwan
"At the time, Albert observed a trend that resembled the big bang, a whole new world cut out from existing gaming platforms." Albert's insight on the opportunity of online games built Asia's largest gaming server room with NT $10 million, which is an enormous amount of money for an unlisted company.
"Seriously, two thirds of Taiwan's Internet bandwidth was dedicated to 'Lineage'." "Lineage" introduced the online gaming age as well as many firsts to Taiwan. It prompted the creation of gaming vocabulary that is still used today, such as instant kill, in-game items. The monthly subscription plan also started a new online content billing model in Taiwan. Gamania became the first Taiwanese "gaming company" that could be seen on the international stage.
"Everyone had thought that Gamania was merely a distributor. However, NCsoft developed the products and Gamania established the gaming company operation module. NCsoft also sent a delegation to learn from Gamania. Both companies remain close partnership till now."
Introductions of More "Firsts" and More Adventures
Gamania created the gaming points payment mechanism at the early stage and also played a role in starting the current commissioned sales and small amount telecommunications bill payment services at convenience store. The online game "Lineage" even prompted the first reported case of "in-game item theft". Gamania formed a police & detectives squad to help the legal community handle online crime cases.
The mobile game "Lineage M" released years later in 2017 also broke Taiwan's mobile game market records, toppling the saying from the outside world that "Gamania has lost its edge and can't make mobile games".
After Gamania Digital Entertainment secured its footing, it put a lot of effort into building its corporate culture. The company has an enviable humanistic management, flexible work hours, Grand Tour leave days, a 24-hour gym, and the employee cafeteria Gama Island where employees love to go dine and get a drink. In 2008, Gamania founded the "Gamania Cheer Up Foundation", which is fully dedicated to adventure education, and completed the magnificent feat of Taiwan's first Antarctica Expedition in 2019.
"Gamania wants to lead the market, so we have to take risks that no one has ever done before." Ahbin speaks deliberately, "It's not about beating the competitors, but rather a challenge for ourselves, to reflect and grow in our 25th anniversary year. Gamania has transitioned from gaming to a comprehensive ecosystem Internet company. What new surprises will the company bring the world in the future?"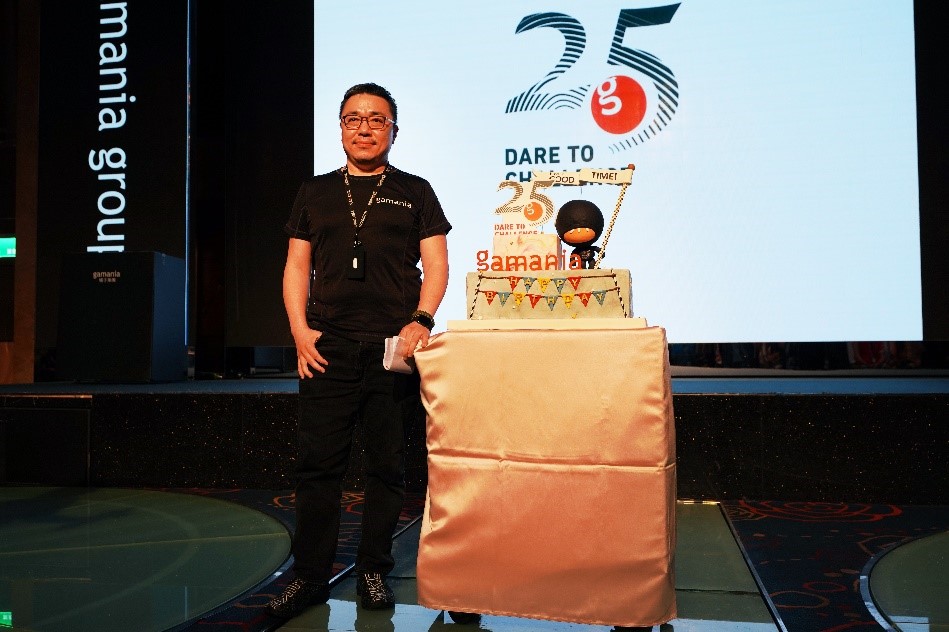 ▲Gamania founder Albert has led the company across quarter of a century and created many "firsts" in Taiwan.