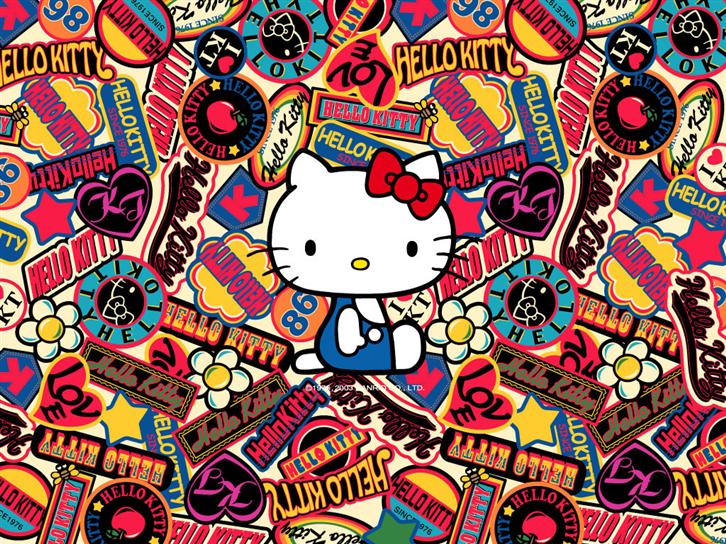 Sanrio is a name that anyone discussing in terms of intellectual property will always refer to. While Disney started from building characters, Sanrio started from product production: Everything had a Hello Kitty logo on it, and anything with a Hello Kitty logo on it sold.
About Sanrio
Origin: The name Sanrio comes from Spanish, meaning "holy river"
Founded: 1960 by Shintaro Tsuji as the Yamanashi Silk Company.
IP Assets include: Hello Kitty, Melody, Keroppi, Pompompurin, Badtz-Maru and more
This white, bob-tail cat with a red bow has been one of the most loved characters in history. She is Sanrio's Hello Kitty, the most successful marketing brand in the world. Hello Kitty was not just given an image, but a whole universe with family, friends and backgrounds. To many of her fans, Hello Kitty's personality is as vivid as yours and mine. How was Hello Kitty created? And who came up with her back story? Read on and find out
From Wholesale to Branding
Hello Kitty was born in 1974 by Japanese designer Yuko Shimizu. The image was printed on a vinyl coin purse, and it sold so well that Sanrio's sales increased 7 times after the Kitty purse was launched. Since foreign culture was a trendy thing in Japan at the time, Sanrio decided to make Hello Kitty British. Her name came from a pet in Lewis Carrol's Through the Looking Glass called Kitty. Her family members include Mimmy, Kitty's twin sister, her parents George and Mary, grandparents Anthony and Margaret, boyfriend Dear Daniel, and pet hamster, Sugar.
▲ The first Hello Kitty product ever! This Petite Hello Kitty coin purse is unavailable on the market.
▲ Sanrio created for Hello Kitty a complete universe with fully developed characters.
A Child's Heart Has No Boundaries
Although Hello Kitty was created by a Japanese artist, her appearance was basically culture-free, hence allowing people from different parts of the world to relate to her. As a 39-year-old "woman", Kitty's face is forever innocent, a statement of the reluctance to grow old. The worldwide Kitty fandom proves that certain aspects of Sanrio's settings of her background worked in their favor.
Hopping on the Celebrity Train
It took a while for Hello Kitty to reach her superstar status. Sanrio was an expert with media operation and invited tons of heavy-weight celebrities to promote Hello Kitty toys, such as Takako Matsu, Kyoko Koizumi and Tahara Tomomi. The message was to emphasize that Hello Kitty was not just for "kids".
From Supermarkets to Boutiques
It's impossible not to see any sign of Hello Kitty walking down the street. Sanrio's product range goes all the way from dolls, bags, stickers, accessories, stationary, household appliances, computer equipment and so on. It also covers high-end consumer products and rare collectibles. Actually, in the beginning, Sanrio already aimed to let Hello Kitty have a lot of trademark freedom. As long as it wasn't in conflict with Kitty's image, distributors would get a green-light.
Sanrio also started to shift from its original pre-adolescent female market and focus on things of daily use: Toasters, massagers, microwaves, coffee machines… You name it. It was all to keep Kitty's face visible at the most unexpected times imagined.
On the other hand, back in Hello Kitty's hometown, Tokyo, Sanrio came up with business models of 3 major directions: Kitty stores with different themes!
1、 GIFT GATE: For entry level products (suitable for age 4-40) or everyday life appliances.
2、 VIVITIX: For chic urban young people (age 20-35), an accessory store with a neon-colored theme.
3、 SUPER HELLO KITTY: High-end designer fashion, a boutique with a white theme.
▲ A Hello Kitty boutique, GIFT GATE, in Shinjuku, holding the biggest Hello Kitty doll in the world.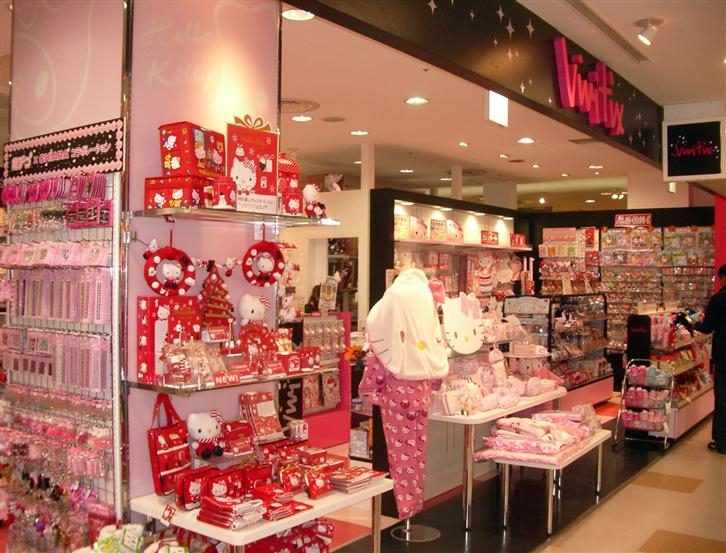 ▲ Hello Kitty's VIVITIX special store.
Starting with a tiny coin purse, and ending up as one of the most well-known icons to date. Sanrio differs from Disney in the fact that Hello Kitty reflects more the changes of our contemporary world. The Japanese has always been keen to react to what's coming next, and in return, they are usually one step ahead of others. Looking back on the history of Hello Kitty, it came from a humble designer that simply aimed to created something she thought was cute. As long as we hold on to that innocence, our favorite Kitty will never go out of fashion.
Reference:
http: //www. managertoday. com. tw
http: //tw. myblog. yahoo. com
Source:
http: //japanconcierge. blogspot. tw
http: //farm5. staticflickr. com
http: //sweetbroom. blogspot. tw