In 2000, Gamania introduced the first online game "Lineage" to players in Taiwan. With this product, Gamania started to think how to inspire the consumer to purchase. CEO, Albert recalled the Gift Card he saw overseas, which could store value and be given as a gift just like the pre-paid phone card. Gift Cards are easily assessable in convenient stores (which were the most common purchasing channel then) The Value Card was therefore created.
2000, GDS2 = Ticket to the Theme Park
GD2S (Gamania Digital Distribution System), also known as the predecessor of GASH. If we refer it to an easy metaphor, Gamania is a theme park with facilities like Ferris Wheels, Pirate boat, and Roller Coaster and GD2S is the wicket at the theme park. You have to buy the admission ticket to enter the theme park and enjoy all kinds of fun.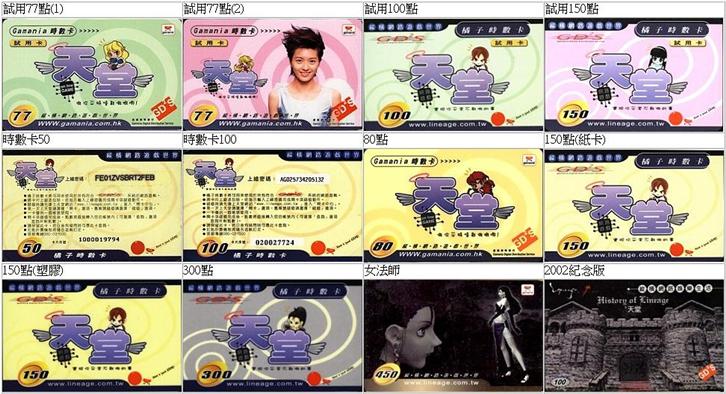 ▲Lineage was the only game operated by Gamania at the time, therefore players also called GD2S as the Lineage Card.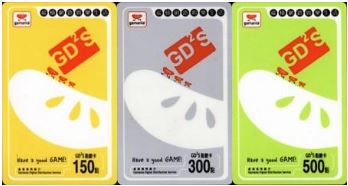 After Noah's AYK and Battle Field were launched, GD2S Card printed with orange segment savors the imagery of Gamania.
▲Gamania's bold move on marketing strategy: TV commercial to help players familiarize with GD2S.
The name GD2S lasted for two years and was changed to GASH (Game Cash) – also can be interpreted as Gamania Cash which is more intuitive and easy to associate with the payment methods.
2002, GASH = More Gamania Content
GD2S was officially renamed GASH in 2002. Gamania recreated CI imagery, derailed itself from the traditional Gamanian-style so that the consumers can view GASH as a legitimate payment tool which can not only be purchased the products of Gamania but also possesses of universal value.
The transition from GD2S to GASH can be viewed as the crucial milestone: players now have more games to choose from than Lineage. GASH became a payment tool for all games by Gamania which lives up to the concept of Game Cash.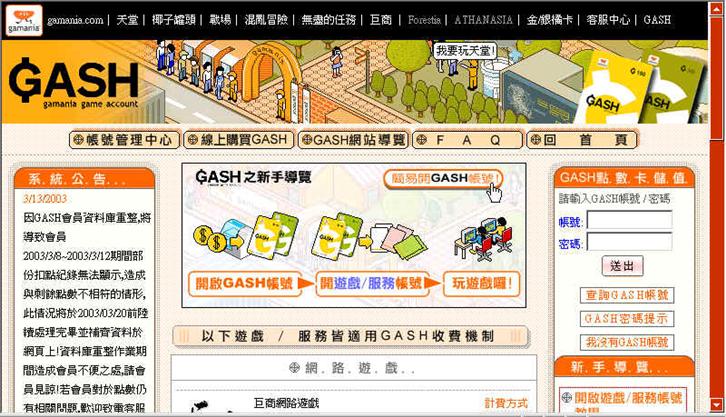 ▲The official website of GASH continued the concept of theme park and delivered the image of Gamania Park
2005, GASH Can Pay for Games Outside of Gamania
Gamania has led the trend of online games in Taiwan and was also the first game company with online payment system. Because it's unprecedented, Gamania had to develop many payment tools and technologies on its own. With these new technologies, more and more companies sought to cooperate with Gamania at the time and wished to use the payment method developed by Gamania. GASH was no longer limited for purchasing products by Gamania or an account with Gamania. With the serial number of GASH, consumers can add value for other games. GASH marked another milestone this year, it's announced that GASH will no longer be exclusive for Gamania and will be used for every game that has partnership with Gamania. Such initiative has led the game industry into developing an online payment environment.
2007, Virtualization of GASH
GASH started its virtualization in 2006 to react to the market trend: virtual currency doesn't have the problem of inventory, nor the pressure of stock shortage. Also, virtual currency is environmental friendly. The purchase of card was only for the serial number and the card would be nullified after value has been added. There are two ways to purchase virtual GASH: to purchase online or at the convenient store –customer would be given a piece of Thermal-Sensitive Paper with serial number on it. It is very convenient therefore it is a triple-win situation for the consumers, stores, and Gamania.
2011, GASH's Attempt to Reform Marketing Channel
The slotting fee in Taiwan is twice to three times higher than in other Asian countries which is a heavy burden for the digital industry in Taiwan. In order to strike a reasonable channel cost and the development of digital industry in Taiwan, Gamania started a series of negotiation with the convenient stores in the end of last year. However, convenient stores decided to remove all Gamania products from shelves without prior notice. Gamania determined to lead the industry to fight the battle with convenient stores, officially withdrawing from the convenient stores and started to develop other channels, such as internet cafés, bookstores, online ATM, credit card, and telecommunication. Gamania also continuously expands other channels and establishes sale venues to provide services to ensure players' rights.
From January up to date, Gamania has proved to be unaffected by the removal incident imposed by convenient stores. Because the purchase rate of GASH has surpassed pervious record which leads Gamania to believe that the market will eventually result in the reform of marketing channel and change players' payment habits.


Withdrawing from convenient stores, GASH continues to develop all kinds of channels, video rentals, comic books stores, toy shops, and even the gas stores are fighting to become sale channel for GASH. Perhaps, you would see GASH sold in the breakfast store next door in the future.