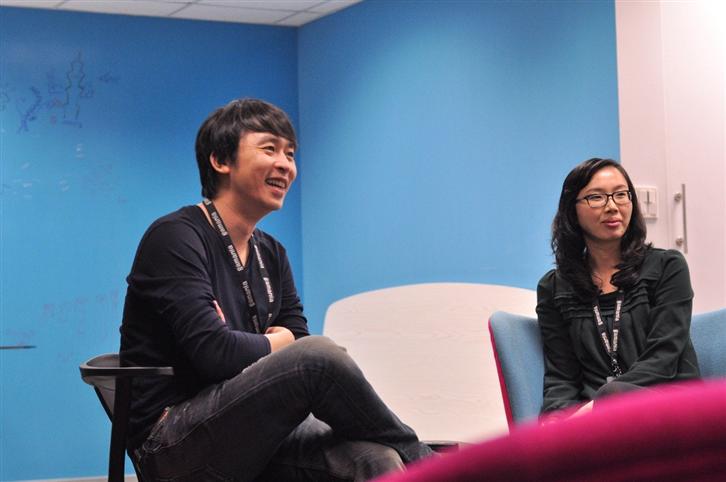 20 years. In order to condense the past, present, future, of a corporation that once created many miracles, became a group, globalized, and on its way to become a national-class flagship Internet corporation into a Gamania 20th anniversary expo, how much manpower, effort, and complicated preparation work must be put it? How many days of tireless work from day to night the Gamanians worked, just to bring this radiant and great "Gamania 20th Anniversary" expo to you! In this issue of G!VOICE, we invited Director Ahbin Chen (Ahbin) of the Brand Center, and Director Iona Chen of the Corporate Marketing Division in a group interview to reveal the back stories in the planning and execution phases of the 20th anniversary expo, unknown to the public!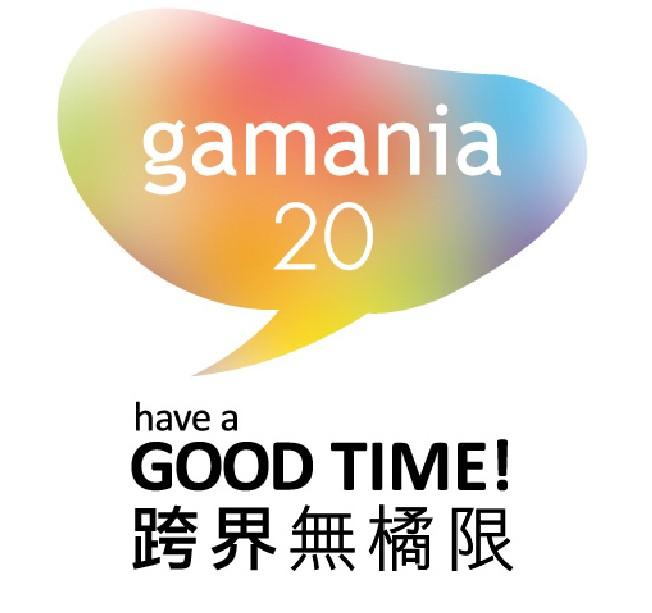 ▲Gamania 20's main visual design is the colorful dialog box
Conversations no longer monotonous, colors demonstrate cross-industry fusion
The primary visual design for Gamania 20 is the colored dialog box; this is transformed from the element very familiar to Gamania with the meaning of inheritance. Ahbin said, "The dialog box is an element used before, but we may be able to bring something new out of it; it's better suited for the core of this event. Another meaning is 'liberation'. In the past, the traditional color for Gamania is only orange, now there are more colors. You can see it as 'old dialog box, future palette' able to conjure up all kinds of colors." 
After the colors are liberated, Gamania will no longer monotonous, but with many possibilities, bringing out subsidiaries with an array of colors, broadcasting the concept of full ecological network. Iona said: "In the past, we were using only white and orange, now we uses the representative colors of our subsidiaries like peach an green to express Gamania is an inclusive group. It is a very good visual design for Gamania 20."
Thoughtful movement flow, cross-industry experience starting from games
The scene arrangement and flow of the main exhibition hall starts from the gaming zone, GASH, Coture on 2F, innovation, foundation, and brand store and Gama Island in the last zone. This arrangement also fits the impression of the public of Gamania, but Iona said, "Actually, have a GOOD GAME in the first zone is not the initial plan, we wanted to put have a GOOD PAY, because that's the key business unit of the Group next year. However, logically, consumers should still see the starting point of our foundation, and then go on from there. This development and flow are consistent with the future development plan of the Group. Therefore, we put the two most important business entities, using GAME as the starting point, and then via have a GOOD PAY, proceed toward the next step for Gamania."
Ahbin also recognized this concept of sequence. Innovation must stand on the existing cornerstone to develop a new future! 
Ahbin said, "The key is innovation. We are all 'new', but as for 'innovation', we must let people know we have that foundation. Additionally, the tone set for our entire communication is beyond games, into life. So when consumer comes, we will let them first know what is familiar to them."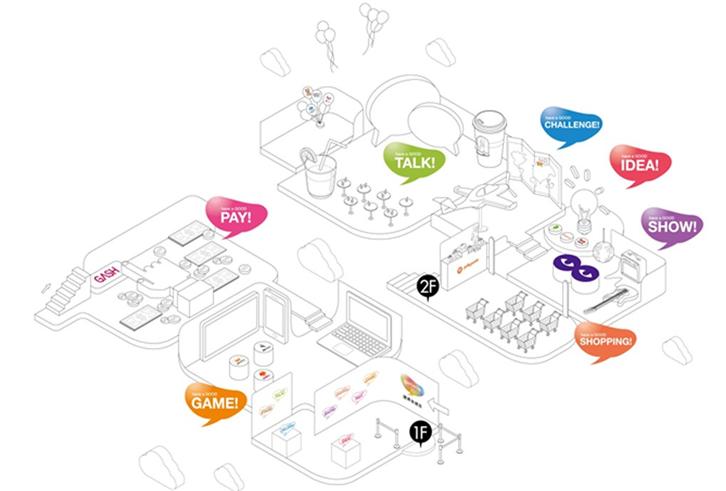 ▲Thoughtful exhibition zone planning, following the growth of Gamania
Truly no distance, a beautiful life is nearly upon us
Entering the Gamania 20 expo, interactions and pictures can be taken anywhere. There were no distant and cold art works, every exhibition area demonstrated network life with warmth. E.g., You could experience GASH's new lifestyle concept, enjoy Coture's new programs, taste Gamania Island Iced Tea. These were all great experiences Gamania sincerely wanted to give to the public. Iona said, "Most importantly, Gamania is no longer just the element of gaming. There will be more interesting services deep into the lives of the consumers. This is the message of this exhibition."
Brand Director Ahbin said Gamania wanted to transmit a brand scent. Initially, Gamania was something virtual on the Internet, intangible. Now after 20 years, through this expo, people could experience for themselves, and walk into the brand story of Gamania! Ahbin said, "Especially in the Talk zone, everyone feels real, because this is the atmosphere in the company. I think everyone would feel we are a real existing brand. Gamanians are natural, internalized, that is not something made up for this expo. Therefore, this is something wished to express more implicitly when doing detailed planning, but it's still an important element."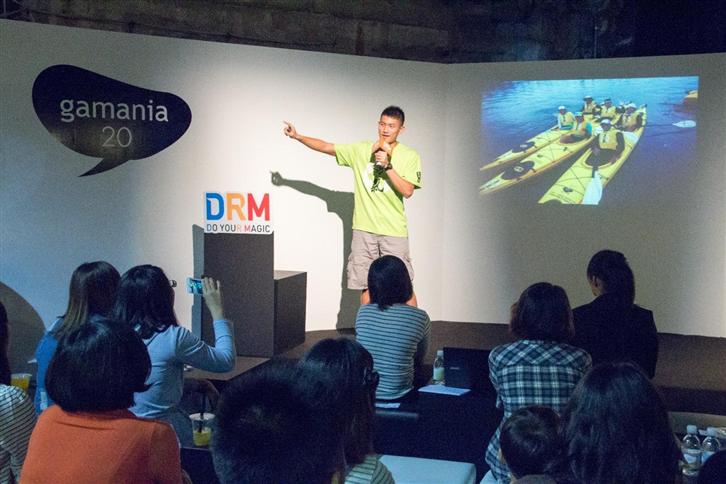 ▲Talk zone's sharing session; no distance on or off the stage
Gamanians Conference! The rare opportunity for growth
In the past, most exhibitions, whether or not organized by Gamania, centered on "games". This year, the balance had been greatly adjusted. Games no longer took 100%, but instead, were joined by diverse contents. At the same time, this also changed Gamania's established way of holding events, and of course, it was difficult. Iona expressed: "The challenge is, in the past we only needed one goal, but now every subsidiary has different goals, and how do we make those sub-goals conform to the demands of the Group, while at the same time being meaningful to the consumers. This is a great education for us, because challenges are to be overcome, and once did, there would be a deeper understanding in this business entity. Through this expo, people both familiar and unfamiliar with Gamania would know what Gamania is doing."
The 20th anniversary expo was comprehensive and huge in scale, and could not be done alone, but relying on the teamwork of all of Gamania's staff. This posed a rare chance for growth for Gamanians. Ahbin said, "I feel excited holding events. It is a large-scale team building. It's rare for everyone to have a chance to do something together. Usually, everyone tries to create profit for every business entity, and it doesn't feel as real and challenging as the experience in this event."
Wholehearted commitment, transforming hard work to energetic smiles
As time drew close to the opening date, there was lesser time to relax. Every detail and link must be carefully inspected beforehand. Even if so, during the event period, Gamanians were still seen with smiles moving among the people. Iona said, "On the date, I feel everyone's expression is interesting, that they are all smiling. This was a project that everyone worked so hard for, and consumers were really coming in! The first day was a game carnival, so there should be many people, but the second day was testing our true strength. I had to say we really did well, because the number of people was that much different between the two days!"
The event wasn't overly promoted, but still able to surprise everyone beyond expectations. A rich event could naturally attract people into coming in. Ahbin said, "Especially for the second day. Danny and kids from the foundation were trying to draw people's attention, but both sides were equal in the number of people, they both had their audiences. They were not here to just join in the fun, but participating with selected content."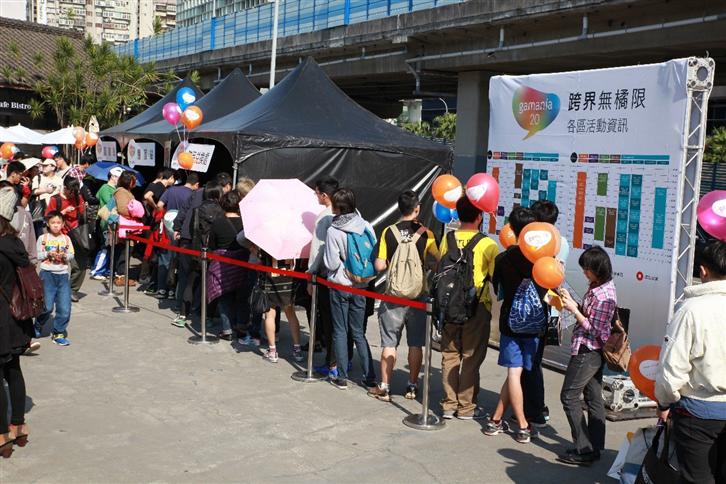 ▲The lineup at the expo were still long even on the second day
attention to detail, striving for perfection
Orange Mushroom Puzzle, many players were lining up out in the cold of the night. The staff called in more security, gave out ginger tea; this considerate act was well received by the players, and it warmed their hearts. Additionally, just like what Ahbin mentioned: "I feel the truest situation was the day before the expo, a whole Gamania's wall of history was taken down. You live out your whole life, but how do you tell your own history? You need to pick something from your milestones in your life. I feel this is very hard, because some methods of information presentation were not as how we expected. The decision was made on the spot; you cannot present the public with something that is wrong, and then was immediately completed the instant before the opening of the expo." 
Iona shared the experience from the press conference on that day: "Because there were many people, we changed a lot of locations, and the original stage made was too small. It was only 8 meters, and on the site; with LED added it became 10 meters. We urgently demanded the staff to have it done before the press conference. It was really not that easy." It was due to the trust in the capabilities of the team, that she could hand such a task to them, to bring out the best to be seen. Learn from these experiences, transform them into key nutrients, and cultivate another Gamania 20!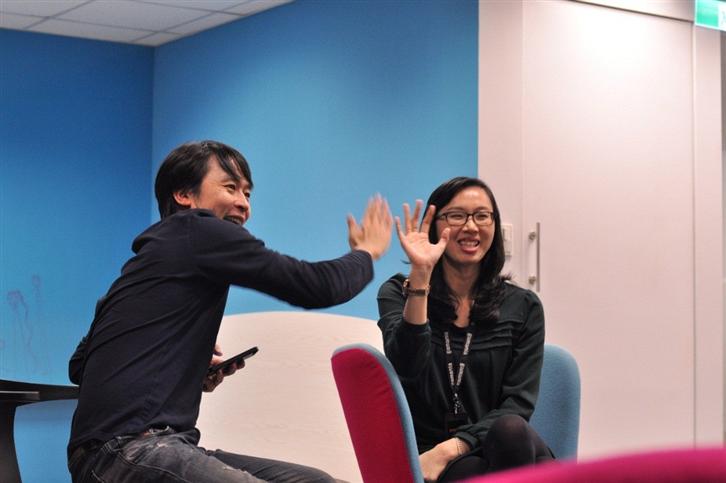 ▲Ahbin and Iona shared mutual interests, and both hoped for the next Gamania 20