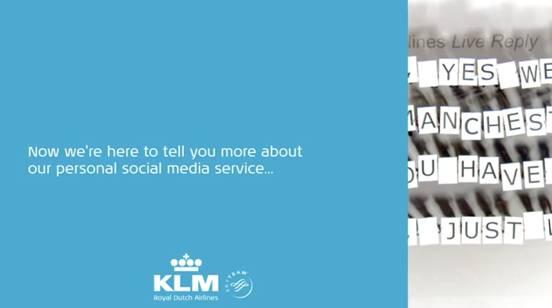 Most marketing campaigns are designed either to promote new products or services, or increase sales. Under this premise, buzz marketing campaigns are easier to strategize than promotions of brand images.   
Some products or services are low involvement in nature. They are like air; we barely feel their existence, and even if we use them everyday, we are not motivated to pay attention to them. Products such toilet paper, drinks or shampoo fall into this category. However, if there is a new product launched at this time, marketers can easily generate buzz to communicate with customers, but so doing will adversely create two challenges:   
1. What do we communicate with consumers before new products are introduced to the market?
2. If we only stick to the strategy to build up brands using products, then we tend to emphasize on product propositions rather than brand propositions. Over time, consumers are very clear about the products, but for brands, we may run into a predicament –  consumers have only heard about them but not really sure what they entail.   
Now, lets take a moment to see how airline companies, or service-oriented companies, can communicate brand values with consumers without new products.      
For most consumers, their first impression of airline companies comes from many details in the services offered; new fleets, friendly services from flight attendants, comfortable cabin equipments, tasty in-flight meals, or spacious seats, etc. The problem is that all airliners are touting the same services, how can you possibly distinguish them all?      
Answer all questions in person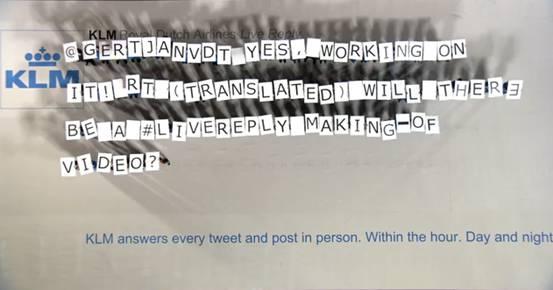 Most airline companies have their own Facebook page or Twitter account, but prompt responses are only the bare minimum. KLM, or Royal Dutch Airlines, not only can promptly respond to customer inquiries, but also puts a sweet twist on their services. Within the campaign period, as soon as KLM receives a post on the Twitter, it replies to the post not only immediately, but also by real persons. As each message is limited to 140 characters, KLM selects 140 employees to hold up alphabet boards to respond (one alphabet board per employee) all posts received. This is just like the trick seen in the celebration on National Day when we grow up – a bunch of people are arranged to list a complete answer, and the message is filmed from a bird's-eye view and the clip is uploaded to Youtube. Please refer to the following video for details:       
Delight Customers with Surprises: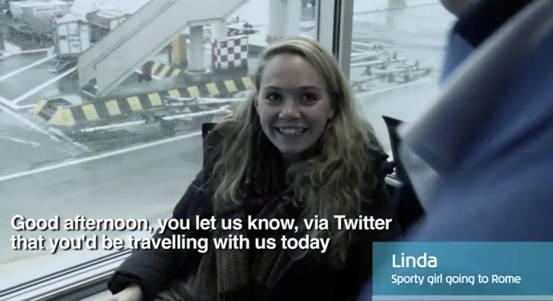 Most people now enjoy posting their updates on community websites for their family and friends to check on their status. This habit is further encouraged by the popularity of web enabled smart phones. When people are traveling alone in foreign countries and sitting in the departure lounge, they want to go online and are anxious to broadcast their whereabouts for their friends and families. KLM understands this and helps customers to transform their boredom into happiness. KLM first stations a group of employees at certain flight waiting rooms at an airport. When customers post messages such as "I am at the airport now waiting to take a KLM flight to a certain destination, on their Foursquare Check-in or twitter account, this group of employees will check for their preferences on their personal pages. They will buy inexpensive or easy to carry gifts, such as a sports watch or voucher to use at Apple stores, and hand them over to customers before they board the plant. Please refer to the following video for details:      
Tile Yourself to Increase Brand Preference: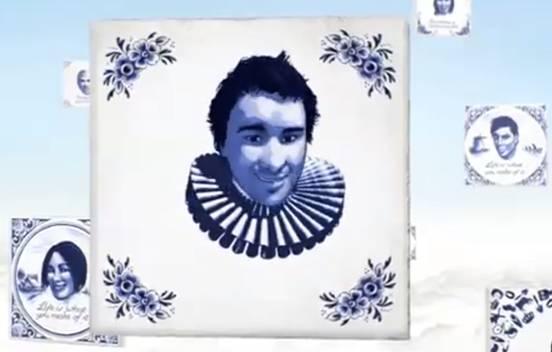 Have you ever thought that one day your portrait may be painted on airplanes? You don't have to be as famous as Hello Kitty or super stars, all you have to do is to update your photo to the KLM fan page: http://apps.facebook.com/tileyourself, and there is a chance this will happen. In this Tile Yourself campaign, each photo submitted along with head shots on the Facebook will be converted into a Delft Blue one (Delft Blue is a blue color specifically used by Dutch Ceramics). Once selected, your portrait along with these of other 3,999 candidates will show up on the Boeing 777 planes to travel with KLM to the world.       
These campaigns are not meant to introduce new products or services, but are rather directed to build consumers' brand preferences and present customers with innovation and vitality exclusively from KLM. The key point they share is to find intriguing things for consumers from their perspective, instead of products per se. Brand buildup is never simple, but as long as you put in your effort with your heart and be persistent, consumers will still reward you with their generosity.         
About Author  
Mika, Internet Marketing Observer
Born in the 60s, Mika has worked in the field of consumption marketing for decades. He experienced brand strategy, product concept all the way to official launch. He cares about traditional marketing model as well as the changes arise from Web2.0 and social media.    Blog:jabamay.blogspot.com