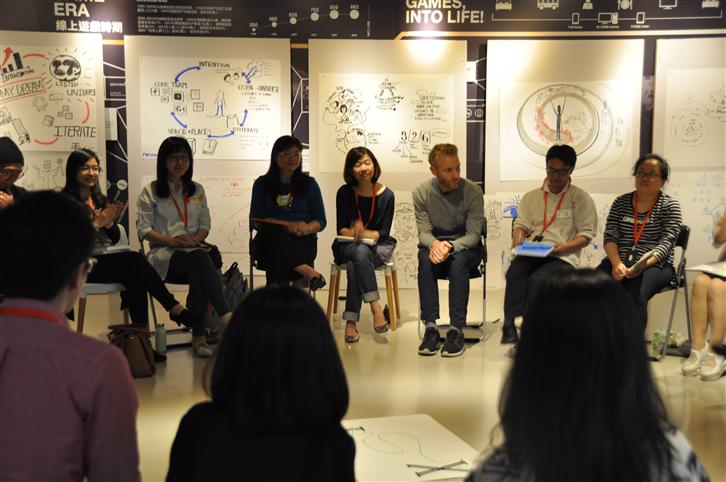 The Visual Practice Workshop was held in the Headquarter of Gamania Group for the first time in Asia by UnderLine(UnderLine Innovation Forum). Two senior officers of Gamania Group, brand director and chief operating officer in Ciirco, Ahbin and Michelle participated in the workshop throughout the whole time. The following are their experience and feedback as well as what they felt and how they will apply what they have learned collected and presented by G!VOICE.
Q: For people who don't work in the relevant field of graphic recording, they may be unfamiliar with it. From your experience, how will you introduce it to people who use it for the first time?
Michelle: At the very beginning, Ahbin gave me the key words, "Graphic Recording" and ask me to do some research by googling. In my imagination, a recorder is an illustrator in courts for record-keeping. However, now I know that graphic recorders will visualize what they have heard and seen to connect it with the body language of speakers in meetings and presentations. With the results of graphic recording, we will have more inspiration and impact, possessing a longer memory for the moment.
Ahbin: For those who want to know more about this tool, I can simply say that this is the tool for start-ups and large organizations that pay much attention to communication will use. Images can clearly explain and record complex contents in meetings for people to easily understand. It's the translation from meeting conversations into images and can convey information even more directly.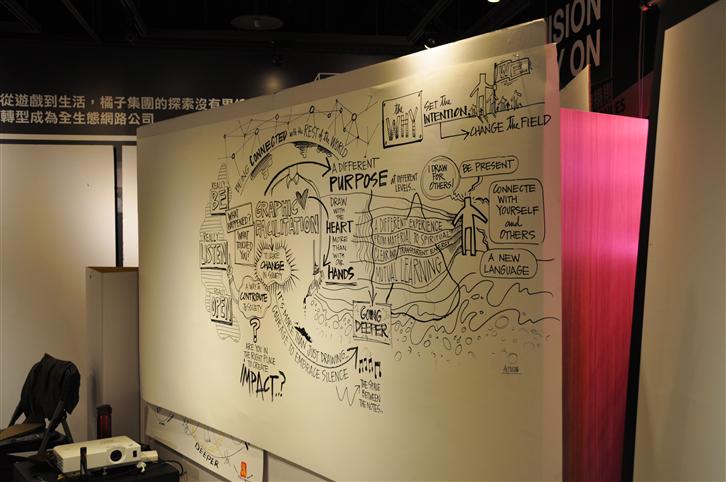 Q: Before and after the workshop, how has your perception towards graphic recording changed?
Michelle: For people who are used to drawing, there are already some graphic notes in our notebook. The only difference is between the notes that are logical or just scrawls. At first, I was confused by the question what can I bring back to my team. When a lecturer, Kelvy, mentioned that she wanted to have influence on the world through this job, I realize that Graphic Recording is not about just taking notes but about conveying ideas and reaching consensuses. It does affect people's objectives; obtaining approvals, and making changes.
Ahbin: In fact, it should be called Graphic Facilitation and this issue has lasted for two to three decades. In the beginning, what I was curious about is what can Graphic Facilitation bring to Gamania, a type of organization and net company. This is originally a working manner from the core of our brand and company. I am full of curiosity about how we conduct it as a tool in our daily work, and how we can help Gamania build its net value.

Q: In your opinion, how can Graphic Facilitation have an impact on conversations and meetings?
Michelle: What I have learned during those days, basically, is that Graphic Recording can "truly deliver people's voices," enhancing the atmosphere at the same time. The aid of the meeting can be easily focused instead of being scattered.
Ahbin: During the process of the workshop, Graphic Facilitation seemed to be invisible. Originally, we thought that we were going to learn how to draw but it turns out that the whole point is not about drawing. The key lies in how to listen to others, catch the point and last but not least express ourselves. The whole process of Graphic Facilitation is just like charades, we can easily understand right after we get the point in the conversation.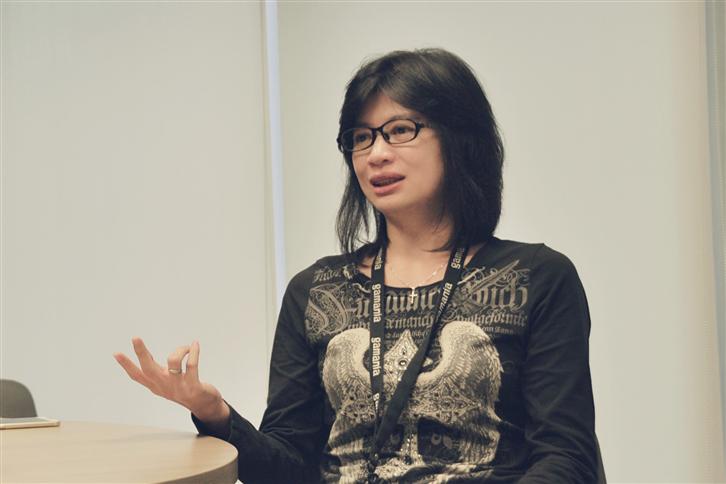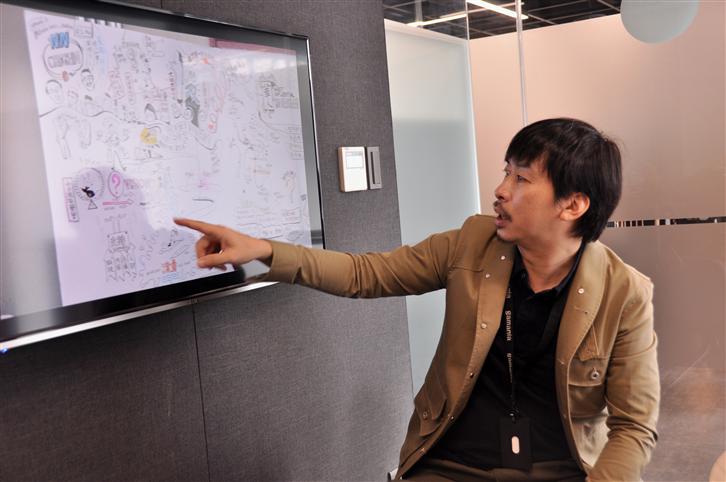 Q: Is there anything memorable during the workshop?
Michelle: To me, what's memorable is not the lessons. Instead, the arrangement of seats is more unforgettable. Eveyone was seated in a circle and I could clearly see the faces of every participant. The seating style made communication easier. Participants could talk to others more frankly and openly. The communication which occurred there was not only unidirectional but also one-to-many and many-to-one. The seating arrangement can increase the interaction frequency. It's really good for similar activities.
Ahbin: What impressed me is that leturer Kelvy said she wants to save the world through Graphic Facilitation. For example, many ideas in public issues are always twisted and misunderstood due to miscommunication. In many meetings in which I have taken part, talking is one thing but communicating is another. After communicating, how to have an action plan is the other question. With the tool, we can diversify our communication and what we can explore becomes various.

Q: On the second day, everyone is assigned a task to finding a keyword to make what and who you are into a concrete idea. What is the keyword you found for yourself?
Michelle: At first, I didn't fully understand Graphic Recording. Thus, I felt like I was there to discover, to explore the unknown.
Ahbin: I used the word "curiosity" to describe myself. Like what I have said, I am inquisitive about how this tool can be applied in our daily work, helping Gamania to build our net value.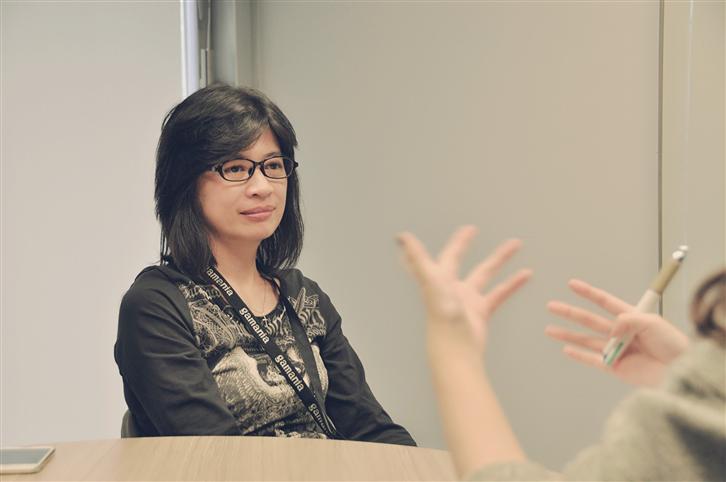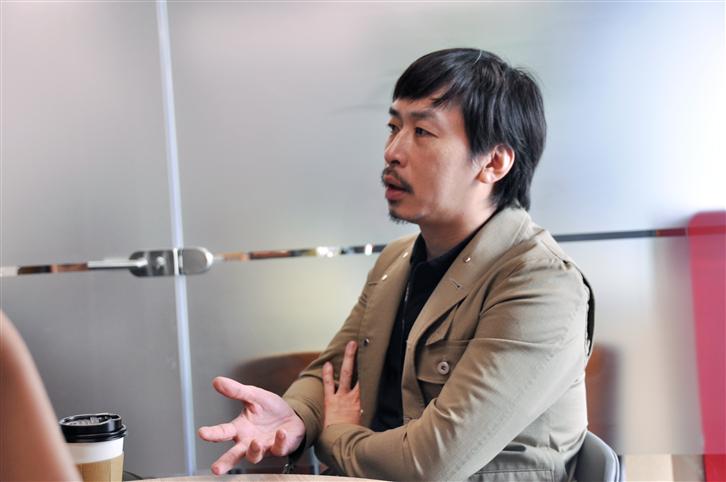 Q: Do you have any ideas after the workshop?
Michelle: There are many practical elements in this workshop. It's impossible for everyone to become a graphic recorder, but the models and theories are still pragmatic. For instance, the quadrant model of practicing includes four aspects: joining, seeing, knowing, and drawing. If I replace "drawing" with "action", it can then be applied to many daily tasks.
Ahbin: The whole point of this workshop is about UnderLine. The program of UnderLine is about potential. It is about things that haven't happened yet but are going to emerge. Just like Graphic Recording, it's a whole new mode of communication. In the past, we viewed Gamania as a manufacturer, seeking a suitable method of administration, hoping some new net values can be found, affecting our partners with the way we work. After knowing the tool, we can soon apply it into the meetings of our subsidiaries.
I think through visual processing, but this workshop is still a very fresh experience to me. It's because my character and position are different. Commonly, I use visual communication to present myself but Graphic Recording makes me to listen.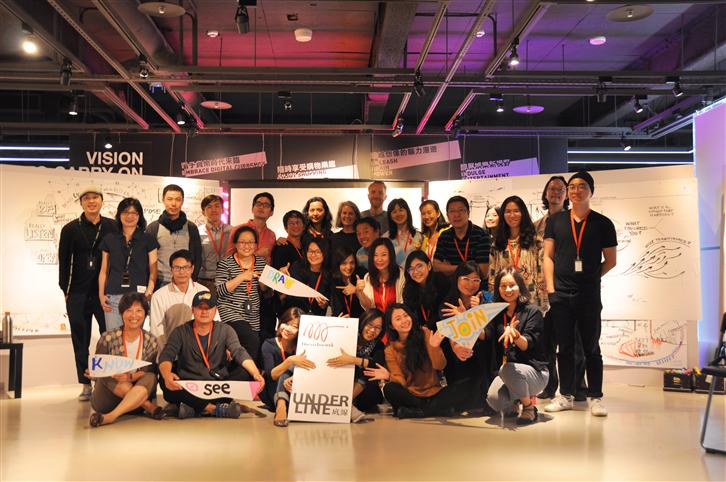 Postscript
Right after the Visual Practice Workshop, the Rebrand Workshop of NOWnews also takes places. This is the first time we applied Graphic Facilitation into a large meeting. Givoice also brings you the feedback from the chairman of NOWnews, Andy.
Q:Rebrand Workshop of NOWnews is the first workshop that Gamania Group applies Graphic Facilitation. What has the workshop brought for NOWnews?
Andy:We mainly focus on the brand orientation and the future direction of NOWnews in this workshop. In the past, every department had its individual thinking toward the operation of media and identification of brand. But these ideas are not put into practice. This workshop is a chance for partners to test and verify their ideas through asking questions and answering back and forth, outlining the brand orientation and the future plan of NOWnews. This workshop is jsut a beginning for NOWnews but it's a very important and inspiring beginning. Even though the workshop ended, our passion will still go on and on.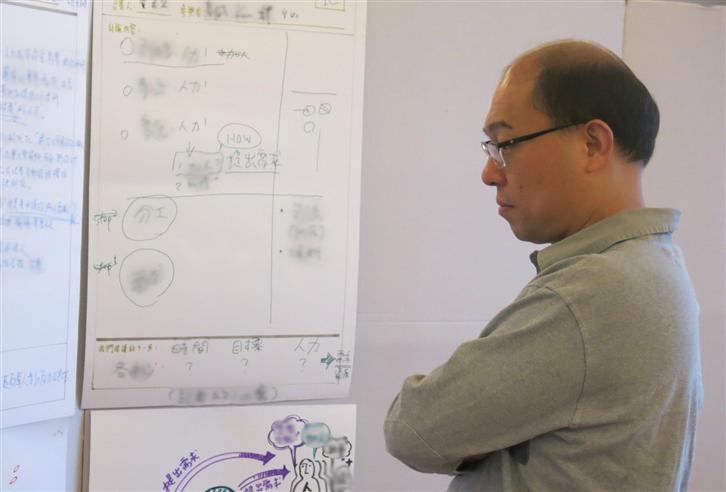 Q:Following the previous question, do you have any ideas after the workshop? What effect can Graphic Facilitation bring to conversations and meetings?
Andy: I am so glad that after years of rising and falling, these core partners still treat NOWnews as their home. What's more, from the anxiety and impatience on their face, we can see the identification and care toward our own brand. Meanwhile, it proves what I have said," NOWnews consists of a family who start their own business." Everyone shows great concern toward the brand orientation and the future direction. This workshop is also a rare opportunity to gather all the core partners up and participate in the three day's enthusiastic discussion about operations strategy. Even after the workshop, we can still see the enthusiasm and energy, to build the most influential media among ethnic Chinese. I am very touched.
Graphic Facilitation allows the key points of many conversations and discussions to be presented clearly and remembered. Through coherent visual presentation, we can clearly view the main points we have discussed while moving forward.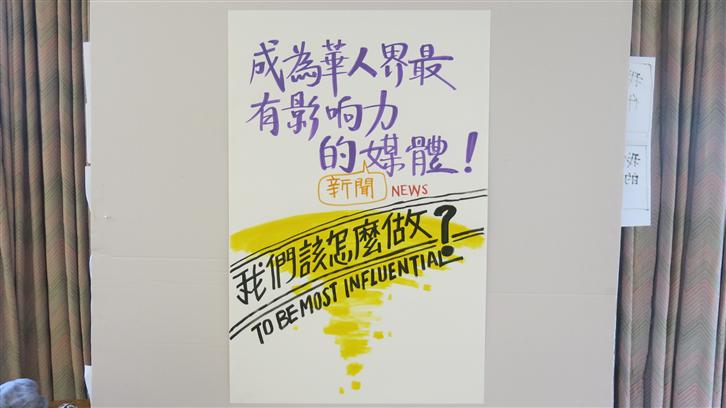 Notes:
UnderLine:
UnderLine is dedicated to creating dialogues and cooperation opportunities between startups and the Internet industry. We seek to partner with innovative, Internet-related ideas with Gamania Group business resources to accelerate incubation or co-creation process.
UnderLine:http://www.theunderline.com/
UnderLine FB: https://goo.gl/ZAVooN

Graphic Recording:
Graphic recording (also referred to as reflective graphics, graphic listening, etc.) involves capturing people's ideas and expressions—in words, images and color—as they are being spoken in the moment.
Source:https://goo.gl/ygrULB

Visual Practice Workshop
Alfredo Carlo, Jayce Pei Yu Lee, and Kelvy Bird – 3 contributors to Drawn Together – come together with Ripley Lin to deliver this program addressing the role of visuals in facilitating interactions, generating insight, improving conversations, and offering possibilities for transforming society.