In 1989, the British scientist Tim Berners-Lee invented the World Wide Web, allowing people that can perhaps have nothing in common to connect with one another regardless of distance and time. The figure below is a map showing the link of the geographical locations of Facebook friends around the world in 2010. The brighter the lines, the more Facebook friends there are between the two cities. Internet-related technologies and services continue to grow. The Internet has become a major mean for us to communicate with our friends and family both in life and in the workplace.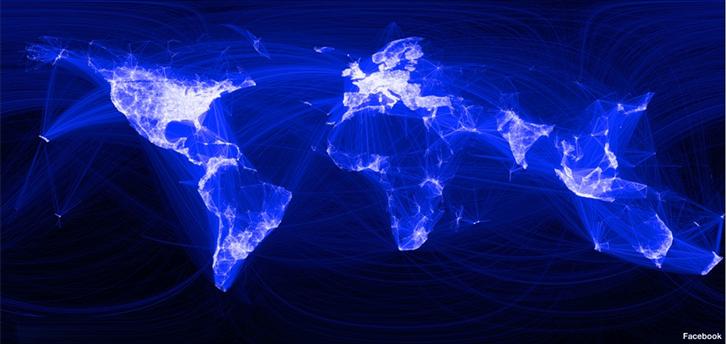 ▲ Source of Photo: http://www.bbc.co.uk/news/science-environment-11989723
Which type of online users are you?
With the rapid development of the Internet, the problem of "infobesity" is becoming more and more serious, and most people may be getting more afraid of life without the Internet. Try to imagine: how would you write back to your client if you do not have Email? How would you look for information if there is no Google search? You wouldn't even have Facebook to stalk pretty girls with; no Skype to call family and friends living overseas for free; and of course, no Line to chat with your closest friends when you are bored. Just imagining such a life is like the end of the world to at least 80% of the population these days (G!VOICE's editor shudders to think about this).
The Internet can be both good and bad, it all depends on 'who' is using it. There are all kinds of people in the world, and the same can be said to life online. This week, we will present to you a few Internet lifestyles based on reports and observations conducted:
The'Gaming' Ranger, The Type that Care Most About Entertainment
For this type of users, more than 70% of their Apps in their mobile phone would be games. And such games are not limited to just mobile games, but also include online games, single-user games, and even home consoles. This type of users loves playing games, and also enjoys watching other people play games. They are well informed of trends and celebrities in the gaming industry. Such users are most familiar with famous E-sport players and gaming Youtubers, but can hardly name any of the celebrities on TV (perhaps with the exception of pretty girls). From G!VOICE editor's observation, their daily activities are most likely to be composed of: rushing home to watch live-stream broadcasts of games like 'League of Legends', 'Hearthstone', 'Counter-Strike: Global Offensive' and 'Overwatch' on Twitch as soon as getting off work or school. Amongst the friends of G!VOICE's editor, the hottest games of their age-group are 'Lineage M' and 'Arena of Valor'
The Sharing Fanatic, The Type that Care Most About Communities
This type of users enjoys sharing their lives online. They are almost always on Apps like Instagram and Facebook. Such users probably all share a secret dream of becoming a Youtuber one day, and are experts in photo re-touching. They have at least ten photo re-touching Apps. Such users can usually type faster than talk, and learn all about nice dining spots and great bars from social platforms. They are active users of PTT (something like the Taiwanese version of 'Reddit'), and cannot be more familiar with popular Internet acronyms and slang terms such as 'dumbfounded cat (the same as 'facepalm')' and 'so scared that I start to chew on my own hands (the same as 'scared the crap out of')'. From G!VOICE editor's observation, their daily activities are most likely to be composed of: checking Facebook, checking Instagram, checking PTT, and then back to checking Facebook, Instagram and PTT all over again (it is an endless loop).
The Master of Technology, The Type that Have the Most App Tools
Different from the gamers, this type of users is intrigued by the performance of functional technology, and enjoy sharing all kinds of 3C information with others. They enjoy reading about unboxing new technological products, and are the ones you would turn to for advice when you are looking for new mobile phones or laptops. They aren't as nerdy as they sound, and would also spend their free time at bookstores or going for movies like you and I. Such users would go out for vacations with family and friends, and can make full use of Apps for directions and transportation information. Travelling with them would be well-planned and effortless. This type of users also enjoys watching foreign movies and drama series. They not only seek for entertainment on their mobile phones, but also work, check and reply to emails on their mobile phones. Their lives are practically inseparable from technology. From G!VOICE editor's observation, their daily activities are most likely to be composed of: watching up to 3 Netflix dramas during their spare time, listening to Spotify when driving, and even do grocery shopping online!
The Know-It-All, The Type that Know All About the Latest Trends and News
This type of users is highly informed of the latest news in the society. They have multiple News Apps on their mobile phones, just to make sure nothing would go unnoticed by them. Such users believe that staying up-to-date with global news and financial trends like the stock market, can only be achieved through downloading more and more Finance Apps. Information is inseparable from their lives as one can never be fully detached from the society he or she is living in. They devote a large part of time in commenting and reading about the latest news, and enjoy sharing their political views and travel experience with others. From G!VOICE editor's observation, their daily activities are most likely to be composed of: constantly refreshing News Apps on their phone like Apple Daily, ETtoday, NOWnews, etc.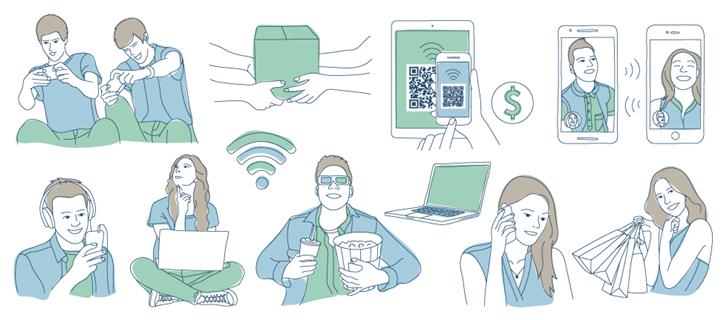 Gamania is Striving to Create an Eco-Internet Lifestyle
Looking at the online lifestyles in general, the above-mentioned types of users are perhaps only the tip of the iceberg. Regardless of whether this article has successfully described the type of Internet user you are, it is most important for Internet users to fully experience and not to be led by the nose to fully experience the comfort of the Internet lifestyle. In light of this, Gamania is striving to provide a diversified service to cater to the different needs of the individual users. Gamania is no longer simply a game developer, it also actively promotes payment, E-commerce, media exposure, digital business solutions and start-up services to create an eco-Internet lifestyle for all Internet users. Gamania's passion in game development has seeped into the fields of various business entities, prompting all Internet users to experience the eco-Internet lifestyle, giving everyone a chance to explore the infinite possibilities of the online society.




Reference: 2017 Yahoo! Games Survey, Brain Magazine, BusinessNext, BBC, Manager Today