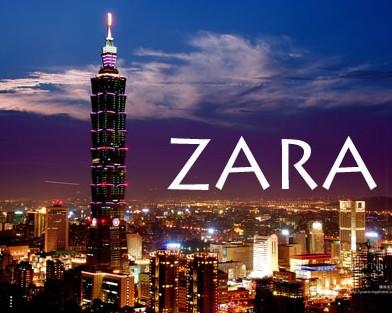 "Have you been to Zara yet?" That the new greetings for people in Taipei city. Unlike Uniqlo's permeating advertisements occupying the surface of buses, indoor and outdoor advertising space, ZARA's only visible advertisement was the lights in the shape of ZARA logo in 101 building on its opening day. (provided by 101 by the way)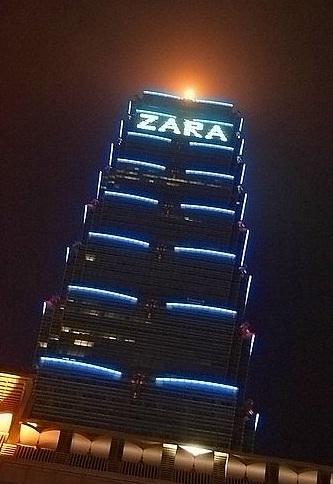 However, the physical location of the store is the invisible advertisement. ZARA successfully integrated the "luxury" it wishes to convey into the 5th Avenue in New York, les Champs-Élysées in Paris, Milan, Shanghai and finally to Taipei 101. Across 5 continents, more than 200 stores in high-end sectors. In other words, ZARA didn't create their brand value through ads and commercials but locations of the stores that create the sense of expensiveness.
The marketing budget saved from such strategy was invested in resources to cater to consumers' liking: avoidance of outfit clash, always something new and fresh in the wardrobe. ZARA created its successful business model –affordable fashion and swiftly making its brand synonymous with "fast", "limited quantity"and "reasonable pricing."
Strong chain of supply is one of ZARA's magic touch, it turns 4 seasons in a year into 26 seasons of fashion year—they promise to deliver new goods within 2 weeks! ZARA's design team has more than 400 designers worldwide which propose over 40,000 pieces of design. Among which 12,000 will be chosen as the designated design to be shelled out and launched each year. From design, manufacturing to worldwide distribution channels, each "new arrival" is guaranteed to be delivered within 14 days. Timely internet update enables ZARA to get to know the latest feedback from the consumers and swiftly correct its design accordingly. That instant adaptation creates sense of expectation and attracts consumers to keep coming back for new arrivals. Fast fashion cultivates a legion of consumers who are loyal (addicted) to the brand.
ZARA's sense of fashion is quite low-key, it never aligns itself with celebrities, stars-adorned fashion shows and avoided alternative strategic alliance adopted by Uniqlo and H&M that invite big-name designers like Jill Sander, Madonna and Karl Lagerfeld to do cross-over collaboration. ZARA's consumer-centric business mode overturned the traditional aesthetic value and business mode.
Even their Facebook fan page that has been clicked over 10 million "like" has a understated, minimal outlook. The tab only includes The Mood which sets up the overall ambiance through motion-photographs; The Week which introduces new arrivals of the season; People! which shares the tips on latest fashion elements through photos of random trendy people on the street. ZARA enthrones the consumers, the ever changing, quick adapting chic products through high-end channels is the ultimate goal of its brand spirit—understated luxury.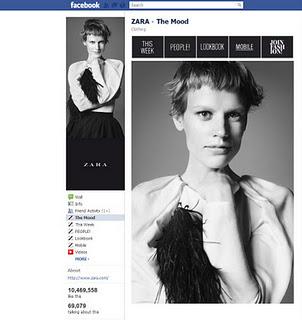 ——–
About Author
gamaniabrandcenter
A blog jointly written by members of Gamania brand center provides insights and observation about brand, marketing and design by designers, project drafters, musicians, exhibition planners, creative minds and aliens…
gamaniabrandcenter.blogspot.com
———