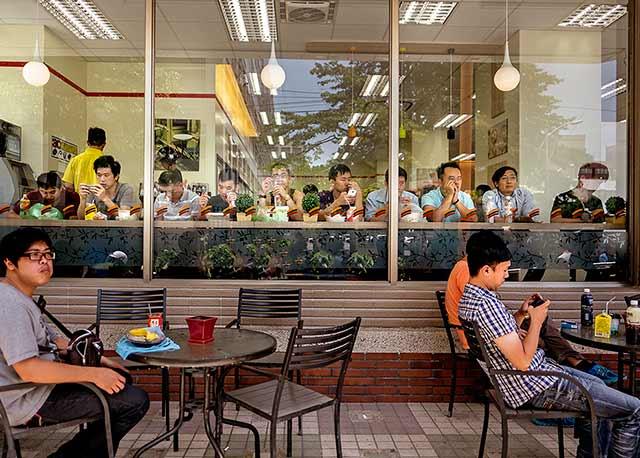 How often do you go to convenience stores a week? Taiwan has the highest density of convenience stores on the planet. The number of them already exceeded 10,000 several years ago! Statistics suggests that one in every three people goes to convenience stores every day with an average expense of 71 NTD each time. Life in Taiwan have already inseparably linked with convenience stores! Under fierce competition, convenience stores in Taiwan rack their brains, trying to capture the hearts of consumers through various kinds of marketing strategies such as introducing sticker collection, creating soft serve ice creams fad and producing short films. The more important thing is that surely you notice some changes while stepping into the convenience stores: new convenience stores are having dining areas, restrooms, free Wi-Fi, even bakery and fusion bars providing light meals. Brand-new space design shows that the curtain has risen on a new era of convenience stores!
Convenience stores originated from small shops in gas stations in the U.S. and prevailed in East Asia after 1980s. Small in size and product differentiation, convenience stores make profits through fast turnover, that is, managing to sell goods faster than other competitors. To general public, convenience stores place importance on efficiency, speed and instant service and most consumers come and go in a hurry. Now with the additional design of comfortable spaces and customers' pace slowing down, how can they boost sales?
▲A sea of people having lunch in the convenience store!
Fast food restaurants go in the decline? Convenience Stores Seize the Eating-out Market Share
According to the data from E-ICP in 2014, up to 77.6% eating-out population go to convenience stores to buy foods. Promotion selling fresh food with drinks has already become first choice for salarymen. Revenue of convenience stores is higher than that of the leading fast food shop, McDonald's. Dining area provides consumers a more comfortable space. Convenience stores become a new choice for dining and rest!
▲Convenience stores often form cross-industry alliance to add variety to their products for consumers to choose from.
Fulfill various demands! Meals and desserts all at your choice
Want to eat freshly cooked, piping hot rice and noodles for lunch? Just come to FamilyMart and have some! Feel sleepy in the afternoon and want to have some refreshment? Hi-Life provides freshly baked breads; 7-Eleven's donuts looks so tempting! To satisfy demanding consumers, beside microwave food, convenience stores now respectively develop so many characteristic products or facilitate strategic alliance to provide diverse meals and desserts. Say goodbye to rush and haste. You can just go to the nearest convenience store and cozily enjoy afternoon tea.
Retain customers! The crowd brings the opportunities of business?
"Let's have afternoon tea at FamilyMart! " Dining area in convenience stores seems to have no practical benefits. However, it can prolong customers' stay, and increase each person's expense and the numbers of customers. The addition of dining area provides convenience stores with at least 10-20% growth in sales of fresh foods. This strategy proves a success!
▲Buy vegetables in the convenience store at the entrance of the alley? Now, every convenience store dedicates themselves to develop the fresh products market as well.
To you, what will convenience stores look like in the future? With shelves full of seasonal fruits, vegetables and fresh meat? Equipped with audiovisual entertainment setups? Customers can buy compact homeware there? To convenience stores, when there is demand, there is always room for evolution! Convenience stores expand to seize the eating-out market share and wholesale stores open smaller branches in communities, which is blurring the boundaries between channels and reveals the service-oriented trend in the future. The winner will be the one providing the most convenient and comprehensive services!




Reference:
http://goo.gl/9yIxUS
http://goo.gl/7zFQnX
http://goo.gl/Fg9QrE
http://goo.gl/mZg0XO
http://goo.gl/GN4bCa
http://goo.gl/eDr6Vp
http://goo.gl/RwN1t6
http://goo.gl/XoP4RD

Source:
http://goo.gl/2BH1Ni
http://goo.gl/Sfmf8m
http://goo.gl/N0VWHk
http://goo.gl/a45F9c