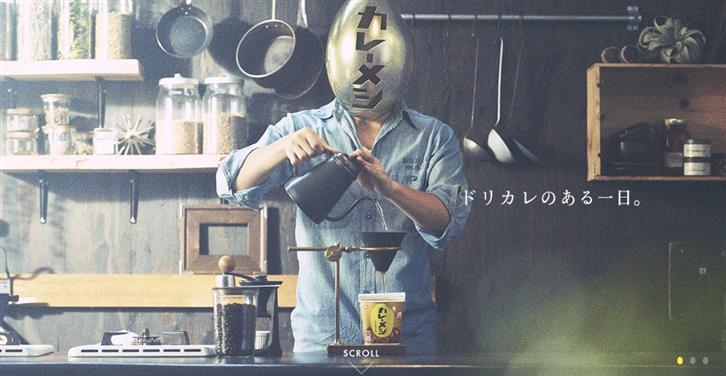 "Free samples" are a frequently used method to promote newly launched products. Passers-by resembling the target demographic are offered a free portion and shoppers in hypermarkets are invited to try a free sample. These experiences are usually provided free of charge and people who have tried the samples and are satisfied with the experience may buy one product. This method does not induce consumers to further help the brand. "CURRYMESHI Cup Curry Rice" newly opened store (in November 2016) successfully induces consumers to "pay for samples" and take pictures and upload them in a spontaneous manner to share the experience with their friends. How is it made?
CURRYMESHI presented its instant curry rice three years ago. The packaging and usage of the new product is similar to the company's mainstay instant noodle products. Users only have to add water, microwave the mixture, and stir it. A bowl of fragrant and savory curry rice can be prepared in less than five minutes. Curry rice has evolved this year. It can now be cooked simply by adding boiling water without microwaving it. Isn't that cool?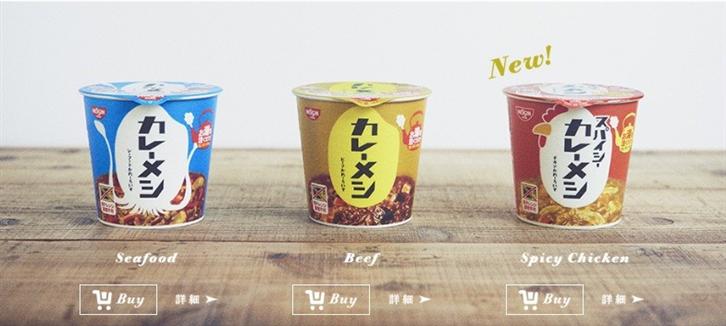 ▲ The new product, curry rice which can be served after adding hot water, has been added this year.
What's even cooler is that CURRYMESHI opened a real restaurant near the bustling Shibuya Station in Tokyo to introduce the new preparation method for instant curry rice to a larger number of consumers. The company hired "Kashiwa Sato", the creative director of Uniqlo, to create a hip atmosphere and challenge traditional impressions of curry restaurants. This restaurant is named "Drip Currymeshi Tokyo". The bar counter is not used as a cooking stage by the chef but instead features drippers resembling those used for hand-brewed coffee. The restaurant is the first of its kind in Japan to serves "drip instant curry rice".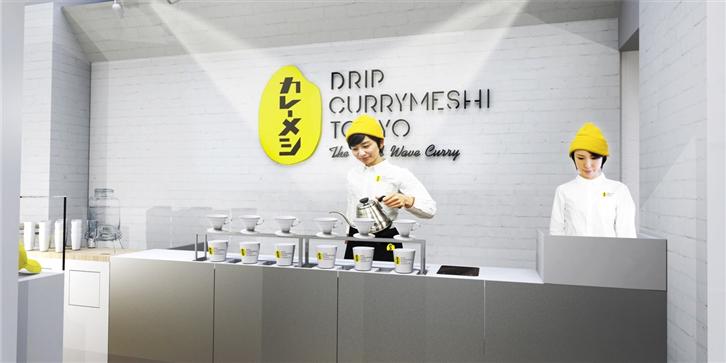 ▲ The hippest drip curry rice restaurant
The drip-style cooking method for a bowl of curry rice is already pretty unconventional. What's even cooler is that the seven different ingredients (Coffee, Red Pepper, Garlic, Dried Bonito, Maple Syrup etc.) which can be selected from the "menu" are placed in a paper filter into which boiling water is poured. The water slowly absorbs the flavor of the ingredient you chose and then drips into your curry rice cup. Consumers can create their own unique flavors such as "coffee-flavored beef" or "Maple syrup spicy chicken" curry rice. (It is rumored that the taste of the curry becomes more intense after coffee powder is added. I'm not sure why more emphasis is placed on intensity instead of deliciousness. )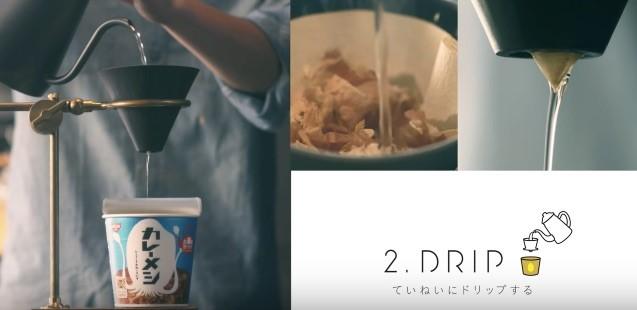 ▲ How does curry rice prepared with dried bonito taste?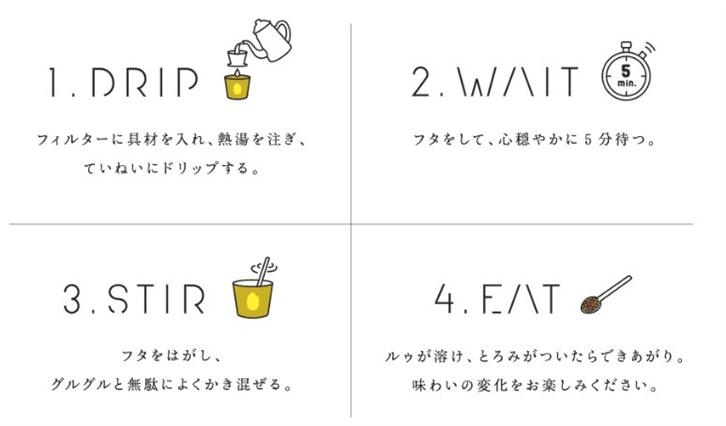 ▲ The preparation of a bowl of curry rice only requires four steps which can be completed in five minutes.
The intriguing psychological factors behind free samples and paid first experiences lead to completely different results.
The restaurant charges 290 Japanese Yen, which is equivalent to 81 NT dollars, for a bowl of curry rice. This is slightly higher than the average market price of 237 Yen, but still significantly lower than the average price of a meal in Tokyo. I firmly believe that CURRYMESHI has the financial capacity to offer free samples to its customers. Why does the company charge a price for this first experience.
If you think about it, what kind of experience are consumers more willing to share with their friends? A free food tasting activity organized by a brand for consumers or the distinct dining experience in a newly opened unique restaurant?
The main goal of charging a price is not to prolong the activity but to give consumers a unique mental experience (I'm sure many consumers are not even aware of the fact that this is a disguised food tasting activity). CURRYMESHI's main goal is not to operate a restaurant but to use this approach to convey the news of a product launch to consumers. The general public quickly realizes that the most unique characteristic of this product is that it is "cooked by adding boiling water and that it doesn't have to be microwaved". The potential of social media is tapped in a creative manner by motivating consumers to actively share their experiences.
What modern humans lack most is topics. Brands must provide topics.
CURRYMESHI's restaurant creates topics everywhere. Diners visiting the restaurant feel an urge to take smartphone pictures of the designer, the style of the decorations, the drip-style preparation method, and the different flavors created by self-selected ingredients and upload and share these pictures on social media. This attracts even more visitors. More importantly, the awareness of this product is greatly increased through this new communication method. Even if you can't visit the restaurant in Tokyo, their creative preparation methods might also inspire your own creativity and lead you to explore more possibilities in a humorous or serious manner. Maybe you will make a live broadcast or upload your images to social media telling everyone that "you tried to make extravagant ginseng curry rice". CURRYMESHI always benefits from these activities.
Despite the fact that this is essentially just a food tasting activity for CURRYMESHI, the unique concepts and their actual implementation turn this into a completely different experience.