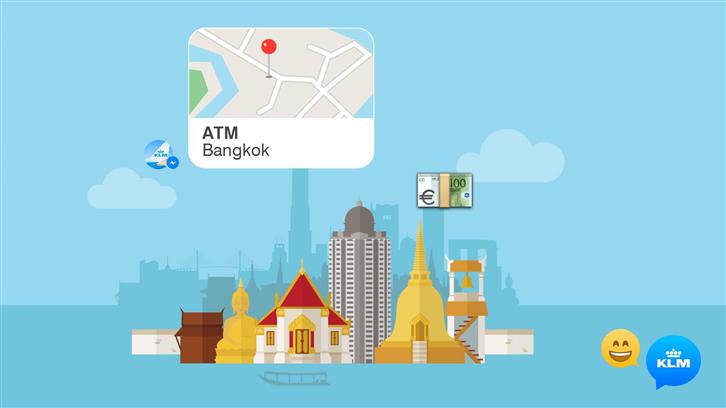 Generally speaking, when you think of airline services, what do you think of? I bet it would be nothing more than: purchasing tickets, choosing seats, hotels, and at most maybe a package trip. Did you ever think that one day, an airline company could help you find a place to take out money, a sumptuous dinner, or the way to the zoo? Wouldn't that exceed an airline's ordinary business services? Why would they do that?
Starting from October, 2016, KLM Royal Dutch Airlines is offering a new all inclusive service called the KLM emoji service. They state, "when travelling and you want to quickly and conveniently find local services, you only need to message KLM's official account through Messenger. You need not even send words, just a random emoji, and KLM will help you find the answers you need".

▲Using only an emoji, you can find your answers (want to eat a burger, take a cab, or go to the zoo?)
For example: you've just arrived in New York, and you aren't familiar with the city. You want to find a juicy hamburger, but now you don't have to worry about how to spell "hamburger" in English, you need only send a hamburger emoji, and KLM will tell you where to find hamburgers nearby. In the same way, you can take care of any information you can think of from transport, to the hospital, to a night on the town with a message through any of the emojis on the Messenger keyboard.
It works like this: you use your phone and send an emoji to the official KLM Facebook page's messenger, and the system will ask you if you want to use the emoji service to find information in your area, after confirming, it will ask you to turn on location sharing on your GPS, and will instantly receive a few recommendations from the system. You can explore further, or share the options with your friends. If you are unsatisfied with the recommendations, you can send the same emoji again, and you will be sent different recommendations. Now isn't that convenient?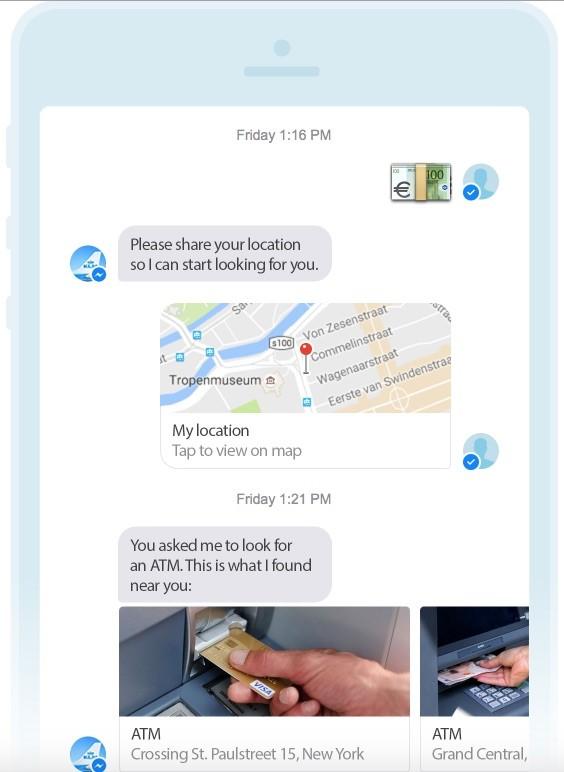 The secret's out, the emoji messenger is actually a chatbot like those that have become popular in recent years that exists simply to serve clients and save them time and energy. Therefore, if you ask too complicated a question or use writing to ask airline related questions, the system will automatically transfer you to a KLM Social Media Service Agent to resolve your issue. For clients, whether or not the question is answered by a robot is secondary to resolving the issue. Although, you must be curious why KLM would provide such an all inclusive service without earning any money?
1. Creates requirements that make clients willing to spend time with the brand:
With the rise of social media, everyone's information has become fragmented, but the amount of information has increased. For a brand in the sea of information, the best method is to stay close to consumer's daily needs.
Consider for a moment, if KLM only mentioned general airline services in the title, you would only think of KLM when buying tickets and booking hotels, but when you were already on vacation, the airline company isn't important anymore. The goal of Emoji Service is to make customers think of KLM at all times while traveling.
2. Uses services to communicate brand ideals, make a difference:
While other brands stop at regular services, KLM integrates new technology, thereby not only highlighting the differences between KLM and other brands, but also projecting a younger image with emojis and bots. It's two birds with one stone.
3. Develop new business opportunities:
Lastly, once more and more people start using this service, KLM can get a grasp of their client's needs while traveling. The responses received can be used to develop new services and trips, delivered expressly from the customers themselves! Isn't that great?