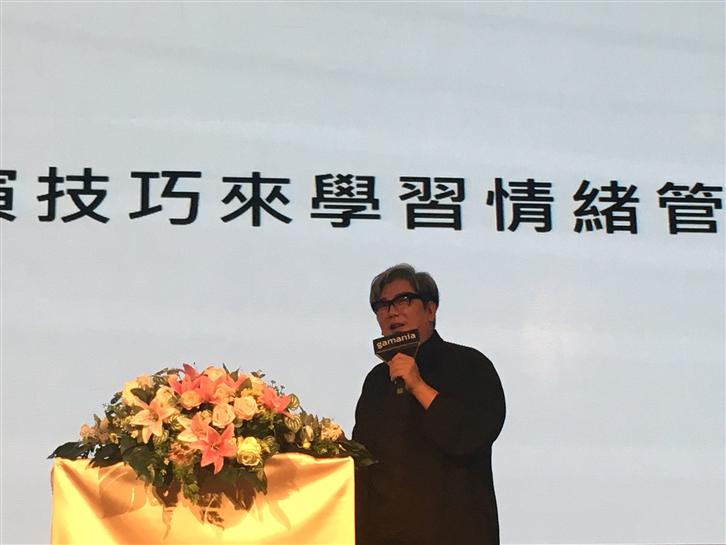 Hou Guanqun, our speaker today, will talk about "The Importance of Performance in Speech and Emotion Management". He had learned the performance art Crosstalk(xiangsheng). He had been an actor, a show host, and he had been a two-term Taipei City Counsilor. For Hou, talking is the most important skill in all these jobs. He considers himself a "professional talker", which is why it comes easily to him.
A "professional talker" must be able to express demands precisely; and the key lies in the "performance". "To perform is to express a form. It is a means to acquire your demand." said Hou. He mentioned, it is not necessary to "reflect" reality to acquire your demand, but rather to plan the most suitable "performance" based on strategy and ideas to manage your emotions, and then achieve your ultimate goal.
For instance, if you want to be an employee favored by your boss, how will you react when your boss told you a horrible joke? Hou believes that everyone knows without any additional thought that he or she must laugh, and laugh wholeheartedly without doubt. A "performance" to portray laughter, heartfelt laughter, is exactly "emotion management".
Emotion management includes expressions and speech. Most people know how to recede, which is to endure, but the real challenge is to learn how to let go. Hou said, one can practice emotion management daily through "performance techniques". Basic emotion performance skills cover two categories:
1. Emotion memory
Think of your brain as a computer, which could store numerous parent folders for emotions, and then sub-folders could be created under the parent folders. Joy, anger, sorrow, and happiness are the parent folders. Under joy there must be a sub-folder for "laughter". You can try to categorize emotional displays such as roaring laughter, smile, sinister smile, sneer, bashful smile, etc. During your free time, keep practicing them until you are familiar. Then whenever it's needed, you will be ready to perform.
2. Sensory memory
The five senses of a human being – vision, hearing, smell, taste, and touch, are all sensory. We could even expand a little bit more and include feeling hot, feeling cold, feeling pain to be sensory. Once you are clear on the scope of sensory impact, you will be able to give timely and appropriate performances. For instance, wearing a suit in an interview portrays an air of professionalism, which is the influence of visual sensory memory on human perception.
In fact, ever since we begin to speak, we know how to communicate and perform. One cries to express hunger, and achieve the goal to be fed. Now, you only need to reawaken this basic instinct, practice more, and you will master this art form and your emotion management, and pursue your goal of meeting your demands.