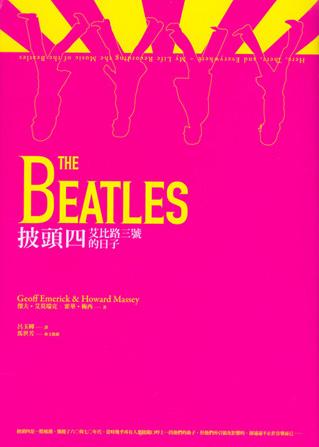 G!VOICE Recommend:
"This is a memoir of the renowned recorder, Geoff Emerick's years with the greatest band, the Beatles in EMI's studio on 3 Abbey Road. From the Beatles mania to they each went their ways. Geoff witnessed it all and documented honestly in the book on the Beatles' private sides: their conflicts, arguments, their adorable and capricious side. In addition, he also documented the behind the scene stories and process of creating the greatest rock n' roll album in studio 3. It's definitely a book worth reading! "
3 Abbey road, the address of EMI recording company in London. Numerous artists and musicians have stepped in and out and recorded their songs, including the Beatles. They spent one long night after another in the studio, and there with them, the producer George Martin and the author of this book, the recording engineer, Geoff Emerick.
Too many stories took place in this studio.
The Beatles created their pieces there, discussed the content of the songs with the producer and achieved impossible sound effects with the recording engineer. The tolerance and tension in the team, even the worse scenario: the involvement of Yoko Ono that displeased the team members. Even so, they still completed some of the most remarkable albums in the history of Rock music. Abbey Road has without a doubt become the iconic symbol of the Beatles, one of their albums was actually named after Abbey Road.
The street scene of Abbey Road also appears on the cover of the Beatle's album
From the first hit single, 'Love me do', Geoff Emerick became the Beatles' chief engineer, the man responsible for their distinctive sound as they recorded the classic album Revolver, in which they pioneered innovative recording techniques that changed the course of rock history. Emerick would also engineer the monumental Sgt. Pepper and Abbey Road albums, considered by many the greatest rock recordings of all time. Now, he decides to tell all these stories in memory of this greatest band of all.
——Extract from book.com.tw
About Authors
Geoff Emerick is an exceptional studio audio engineer and producer. He has worked with Elvis Costello, Cheap Trick and Jeff Beck and won 4 Grammy Awards, including a Special Merit/Technical Grammy Award in 2003.
Howard Massey
Howard Massey is a veteran music journalist, he has published 11 books and worked with significant artists as a recording engineer such as Elvis Costello and Kraftwerk.
——Extract from book.com.tw