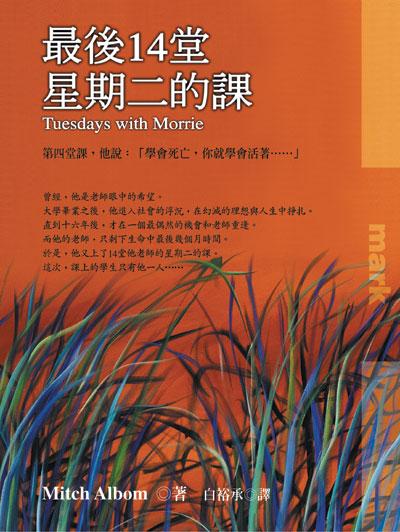 Sister Hsieh (HSIEH, Chun-wei), Director of Animation Strategy Development
"This is a book about learning life lesson. Only when you learn about death, you learn about how to live. We don't always have to introspect after we hear about the tragic news. Replace negativity and pessimism with positivity and optimism. This book will make you cherish each moment and live everyday to the fullest."
Movie Trailer for Tuesday with Morrie
Introduction
The author Mitch Albom visited his late teacher every Tuesday during the teacher's final months. Despite the looming shadow of death, the old professor kept his passion and sense of humor. Their talk on every Tuesday gradually softened up Mitch's stone-cold heart. Their gathering became a lesson about life and death. "When you learn how to die, you learn how to live." This lesson may be short, but it encompasses many subjects: love, work, family, senility, forgiveness and finally "death." This is a lesson that explores life and an endless treasure hunt. The book was on the New York Times Bestseller List since its debut release.
–Extract from Kingstone Online Bookstore
————
About Author
Mitch Albom
Mitch Albom is a best-selling author whose books have been translated into 42 languages, selling over 28 million copies worldwide.
His most notable books, which have been adapted into movies, include, Tuesday with Morrie, The Five People You Meet in Heaven, For One More Day and Have a Little Faith.