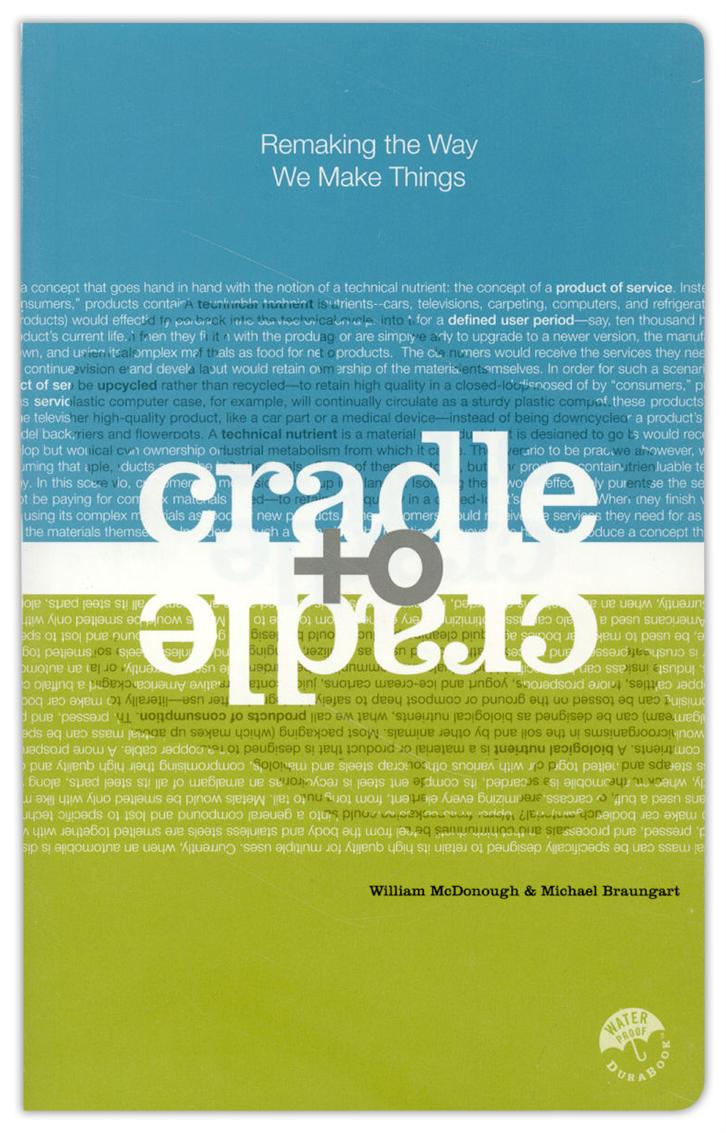 G!VIOCE Recommend:
"Imagine when you throw your broken carpet to the garden, it can be decomposed and provided nutrition to the earth; the detergent flow through the river can actually nourish the river; when the garden and farms alike have signs written, 'Dump the Waste Here'…" Cradle to Cradle's visionary eco ideal will overthrow your perspective on green design and reexamine it.
Introduction
In the nature, there is nothing to be disposed. When a cherry tree blossoms, the flowers will fall to the ground—nothing is being wasted here. Because all the dry branches, fallen leaves and flowers will return to the ground and become nutrient and nurture new flowers and fruits.
If human society functions the way cherry trees do, what would the world become? Thinking from that perspective, we don't need to think about how to reduce the pollution or how to reduce waste in resource or how to reduce garbage etc. Instead, we will be thinking how we could be like a cherry tree from the beginning, even though all the flowers have fallen to the ground but still remain in the sustainable cycle.
If any design can follow the concept in Cradle to Cradle, maybe these things won't go towards the grave after being produced!
This revolution is not just hot hair by some idealist. Currently they have created more than 600 types of C2C (Cradle to Cradle) products: Ford will launch a car built by soya beans and corns' Nike has designed sneakers that can be recycled; manufacturer of most ergonomic office chair, Herman Miller produced a chair that can be recycled almost 100%; gDiapers in Portland produced cotton diapers that contains zero toxin, the inner layer can be decomposed in the dirt within 100 days; mainland China started to test on sustainable city building experiment; Netherland has entered C2C Mania and set up to create a country that manifests Cradle to Cradle concept.
—Extract from Books.com.tw
About Authors
l William McDonough
McDonough was appointed the Dean of the School of Architecture at the University of Virginia, and is globally recognized leader in sustainable architecture. He was born in Tokyo, Japan, living his childhood in Japanese style enabled him to touch upon the design concept of combining architecture with nature. He believes a good design can achieve balance between eco-system and economy which he carried out through all his design projects and subsequently influenced the world. In 1996 McDonough became the first and only individual recipient of the Presidential Award for Sustainable Development. Time magazine honored him as the 'Hero for the Planet' in 1999 and he also won the National Design Award in 2004.
l Michael Braungart
Braungart is a chemistry professor in University Lüneburg. He was one of the radical eco activists when he was young and the first doctor in Green Peace. In the 70s, he was one of founders of the Green Party in Germany. He once tied himself on the chimney in protest of chemical factory emitting toxic waste and he also swam in the North Sea in protest of overfishing.
In 1987, he had a drastic change in his act and founded Environment Protection Encouragement Agency (EPEA). He started to collaborate with other corporations and research on projects that encompass economic development, commercial benefits and eco-balance. He actively lectures all around the world to promote his ideas and he came to Taiwan briefly in October, 2007 to open a short-term workshop.
The architect and the chemist combined each other's strengths and established MBDC Design company. They seek to step outside the box and create various industrial and commercial products, architectures and cities that are both ecological and economic. The famous cases include the green roof on the city hall of Chicago, the river recuperation plan in Ford's rouge factory, the Greenbridge Condominiums in North Carolina, US and the eco garden in Guan-Xi province, China and many other sustainable community plans. The official website of the company: www.mbdc.com/
—Extract from Books.com.tw