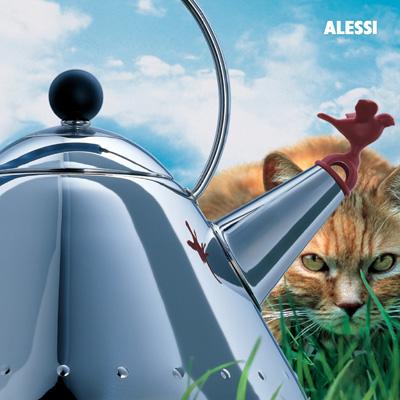 Design critic, Donald Norman once said, "A product that has good functions is important; a product that is easy to learn and use is also important. However, what's more important is that the product has to make people feel a sense of pleasure." The Alessi water boiler with bird whistle designed by American architect, Michael Graves is the best example of that.  
Alessi's design has always been fond by many, it can be attributed to two reasons, 1. the much praised Italian craftsmanship and 2. the design concept, "look for fun stuff in life."  This water boiler with bird whistle design precisely embodies this charming element. Architect Michael Graves successfully incorporated his own design language into the water boiler of retro shape. More impressively, he proposed this delightful idea to create something practical yet also enjoyable for people's daily routine.   
How so? Well, apparently, the boiler's most ingenious design is its bird whistle on the mouth of the boiler. Without it, you could still appreciate the beautiful line and rivet design around the side, but it would be merely a beautiful and practical water boiler. Added with the symbolic design of the bird whistle, the whole thing becomes different. It makes the life more fun and enjoyable. Imagine when you wake up in the morning to make some breakfast, when the boiler's heated, you could hear the sound of the bird loud and clear. Then you pour a cup of high grade Ceylon tea for yourself or your loved one and welcome the beginning of a brand new day. This is such a charming picture to imagine! The whistle of the bird suggests the a lovely and fresh morning.   
According to the April issue of Monocle, this classic water boiler has been sold over 1,435,000 pieces since its production in 1985, thus becoming the most successful product of Alessi. I think the only reasonable explanation is that, perhaps like Norman said, "A design that makes you happy is the best design" and subsequently a "sellable" design.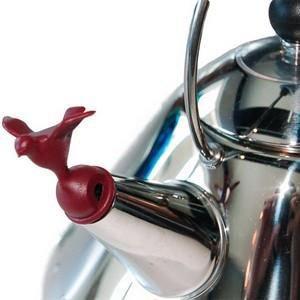 ▲Without the bird whistle at the mouth of the boiler, Michael Grave's design would be at best a beautiful design piece that does not leave people with much imagination.     
About Author
gamaniabrandcenter  
A blog jointly written by members of Gamania brand center provides insights and observation about brand, marketing and design by designers, project drafters, musicians, exhibition planners, creative minds and aliens…   Blog:gamaniabrandcenter.blogspot.com