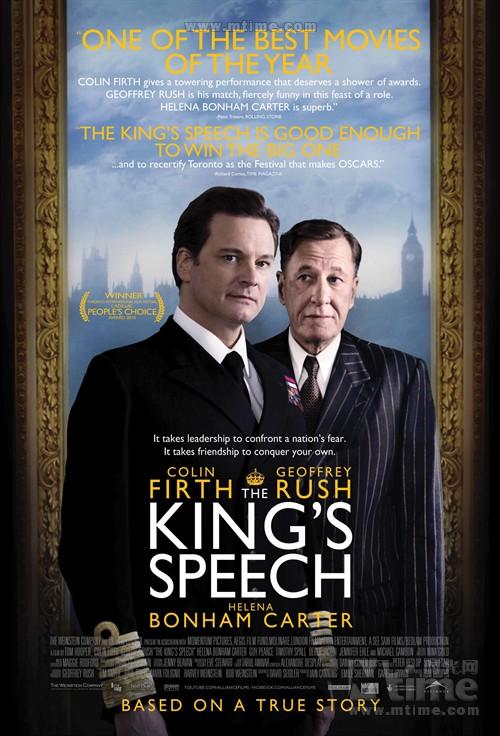 G!VOICE Recommendations
Winning international awards around the globe in 2010, as well as nominated for 12 categories in the 83th Oscar. Awarded with Best Film, Best Original Screenplay, Best Director, and Best Actor. ‎
There is one key message that the director constantly expresses throughout the film: "I have a voice, and a right to be heard". Treating stuttering patients does not need professional medical treatments, but a person willing to listen, understand why they are inflicted with it, and help them. Through the story of Prince George VI, the film points out that even a person as high in status as he is, he still desires for someone who listens as everyone else. "I have a voice, and a right to be heard" also reflects the atmosphere of the modern society, the right of speech, and how they exercise that right.
Synopsis:
Director: Tom Hooper
Actors: 
Colin Firth
Geoffrey Rush
Halena Bonham Carter
Based on real British history, the film tells the story of how King George VI seeks for medical treatments for his stuttering, and came across a speech therapist, Lionel Logue, who would had a fundamental influence on his life.
About the Director:
Tom Hooper (1972/10/01), British film, TV drama director. Born in London.  
Works:
1992: Painted Faces
1997:Quayside
1997: Byker Grove
1999: Cold Feet
2001: Love in a Cold Climate
2002: Daniel Deronda
2003: Prime Suspect 6: The Last Witness
2004: Red Dust
2005: Elizabeth I
2006: Longford
2008: John Adams
2009: Damned United
2010: The King's Speech
2012: Les Misérables
2015: The Danish Girl




IMG Source:
https://goo.gl/n0kxoo
https://goo.gl/wzOUdn