Adam Garone founded Movember, a charity brand from Australia, in 2003. At first, he came up with the idea to combine a moustache growing movement with a men's health issue in order to bring moustaches back in style. As the pink ribbon event for breast cancer prevention takes place in October, Garone felt that November was the best opportunity to extend the topic of health from women to men. Thus, he combined moustache and November into the word Movember and founded the Movember event to grow moustaches in November to raise funds. 12 years later, Movember has become the largest sponsor for testicular and prostate cancer research. According to official figures, over 700,000 people took part in this event last November, successfully raising US$75 million.
Rather than making tear-jerking commercials, Movember utilizes humorous, interesting methods of communication to create their brand personality. This is apparent from their nicknames for volunteers, calling male volunteers mo bros and female volunteers mo sistas. These approachable nicknames instantly create an easygoing, friendly atmosphere. Movember's advertising strategy is an extension of the brand's funny flair, portraying mo bros raising funds as heroes.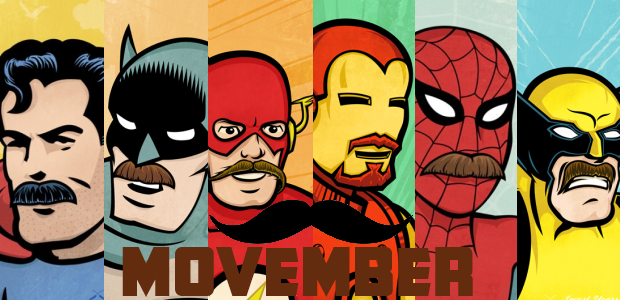 ▲In addition to the official Mo Hero video series, some mo bros have also taken it upon themselves to add moustaches to various US comic book heroes and other celebrities.
In order to reduce the resistance women may feel at their significant other growing a moustache, this Movember ad portrays mo bros who take part in this event as guys mo sistas should be proud of.
As charity events and fundraising dinners are often overly serious, Movember chose to break from the norm and turn fundraising events into large parties that everyone wants to attend. A variety of brands and even governmental organizations have also adorned their products with moustaches to take part in this event. Whether is Shave the Date day on November 1st, MoRunning Event, or the gala partés upon the event's conclusion, Movember promotes an atmosphere where people can have fun while contributing towards charity.

▲The Movember Gala Partés invites fundraisers to participate in costume. Prizes for best moustache of the year and best costume are also given out during the party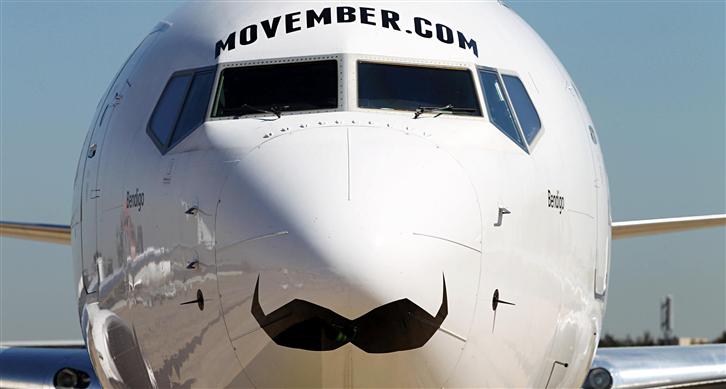 ▲A multitude of airlines has sponsored Movember through promotional events.
Rather than conveying a single brand story, Movember is adept at helping those raising funds tell their own story. They encourage participants to tell everyone around them why they're growing moustaches. There is a designated area on the website which allows each mo bro to create his own fundraising page and write down why they are taking part in the event. Social media is then used to promote the event. In order for this event to spread rapidly across the globe, Movember introduced the concept of co-creation through encouraging participants to hold Mo Party fundraising events on their own while Movember simply provides design of promotional material and a handbook of suggestions. Not only does this method save Movember promotional costs, it effectively utilizes the interpersonal relationships of mo bros and mo sistas to quickly build Movember's worldwide notability. Up until last year, 51 cities across 21 nations have taken part in this event.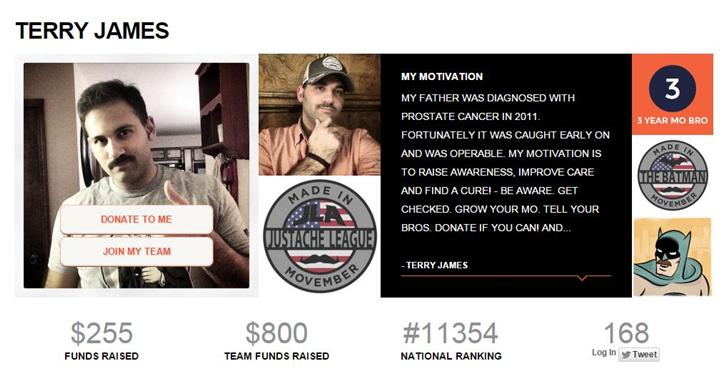 ▲Fundraising pages include details about why mo bros are taking part in Movember, participation history, as well as personal and team funds raised. Members can also interact with donors in the message area below.
Movember is a way to discuss a serious topic with a relaxed, humorous attitude, which is part of the reason why it has won the love and support of many. This strategy is seldom seen in Taiwanese charity organizations. Perhaps we can try fundraising in more entertaining ways in the future so that charity events become fun and meaningful at the same time!




Reference:
http://goo.gl/nVa1lk

Photo sources:
http://goo.gl/nVa1lk
http://goo.gl/58aODN
http://goo.gl/NKzbhY