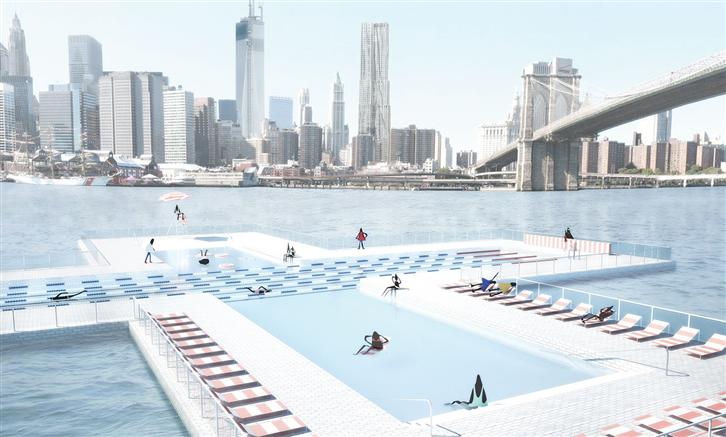 This is a meaningful case of brand marketing.
"Heineken" has its eyes on the "+Pool" project which "a group of crazy people wants to use non-chemical methods to filter 2.27 million liters of river water per day, and allow New Yorkers to jump into a clean and clear East River to swim once again". Once the number of supporters reach 100,000, Heineken will donate USD $100,000 to make this dream come true.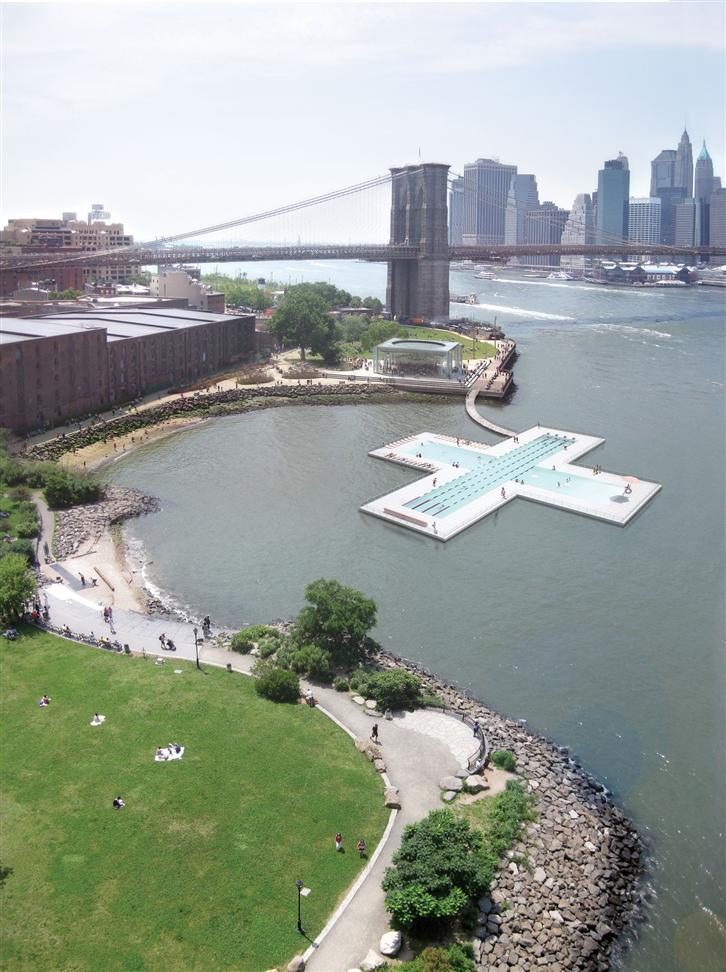 ▲ Imagine what a floating swimming pool would look like on the East River in New York City.
Why is it important? If this project is feasible, it could be duplicated in any river city in the world, so that more urbanites could return to nature's embrace!
When I first read about this project, I lamented "Isn't swimming in a river in nature supposed to be a human activity with a long and ancient history?" Floating pools have been seen in rivers of New York City since the 1900s. However, side products of our civilized society – pollutants such as garbage, waste water, excrement, and others, made swimming in "natural pools" a thing of the past and also a rare luxury.
People always appreciate the greatness of fools
The "+Pool" team's solution to this problem is the crazy idea to "just filter the river water step-by-step". +Pool, shaped like its name, is a gigantic cross-shaped pool floating in the middle of the river. The water will come from natural river water, a total of 9,000 square feet, and the four different zones will be: the children's pool, the sports pool, the lounge pool, and an Olympic-size lap pool. Imagine diving into this blue river water, and gazing at the Manhattan skyline in the distance. Even if you just relax and do nothing, wouldn't it be a great pleasure to experience in life?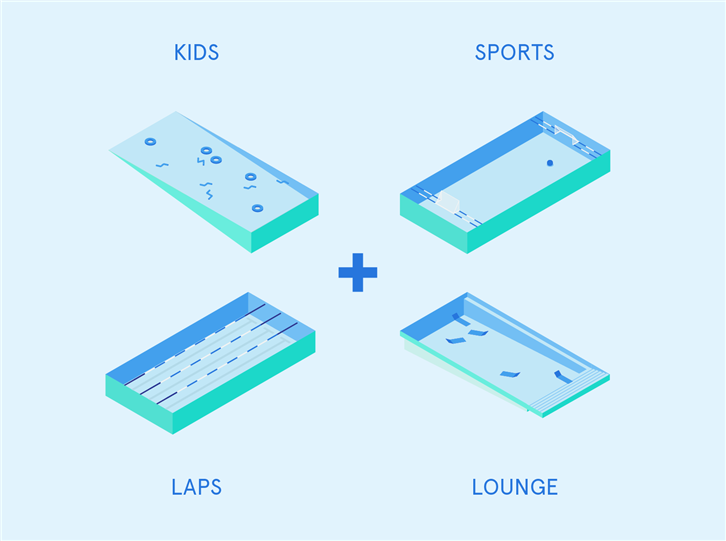 ▲ The cross-shaped pool has four different functional zones.
Rather than a pool, you might as well call it a gigantic filter to be more accurate. The pool has filter devices on its four walls. When the pungent and dirty river water goes through the multilayer filter, it is returned to swimmable water quality again. The +Pool team is not so naive to filter the whole river, but will start with a small area and ensure the water quality in the pool area meets with standards. Even so, it is still a challenging mission.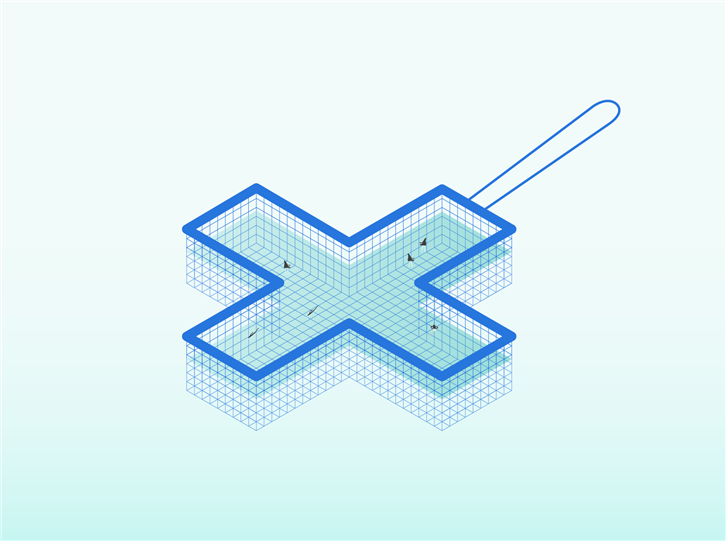 ▲ Natural and non-chemical method to filter the river water.
Simple concept, full of challenges in execution
The +Pool team will use an entirely non-chemical method, where artificial fabrics are used to create the filters, and the pore size of each layer of filter gradually decreases from the outer layer inward. Each layer filters a little so that the device is more durable. Different fabric designs are used to filter different types of contaminants. For instance, A+B+C layered filters are suitable for the water in New York, while D+A+B layered filters are suitable for the water in Taipei City. A different combination of filters will be able to filter rivers of different water qualities.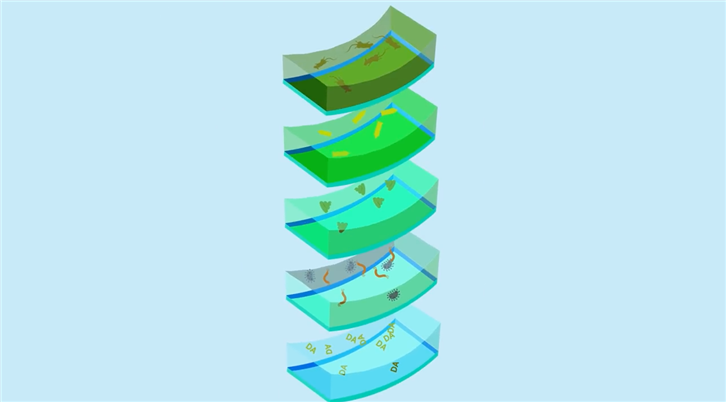 ▲ Natural fabric layers filter the contaminants in the river.
This amazing idea comes with numerous challenges. Things to consider include the weather, the temperature, the salinity, the color, among others. Even though public affairs should be executed by the government, since the government shrugged its shoulders and said there is no funding, +Pool had to take matters into its own hands. In 2011, the project was an instant hit on a crowd-funding website. It raised USD $40,000 within seven days, and finished the phase one tests. In 2013, the project raised another USD $300,000 on the Kickstarter platform. Sponsors could "adopt" one pool tile engraved with his or her name. When the pool is built, sponsors will be able to see their names on the tiles. Isn't that cool?
Furthermore, experts were consulted in using a ship vessel concept to build a miniature filtration system – the floating test lab in Hudson River. After five months of continuous improvement, the tiny floating pool of less than two square meters was declared a successful experiment. It prooved that this idea is not only a concept, but a feasible plan.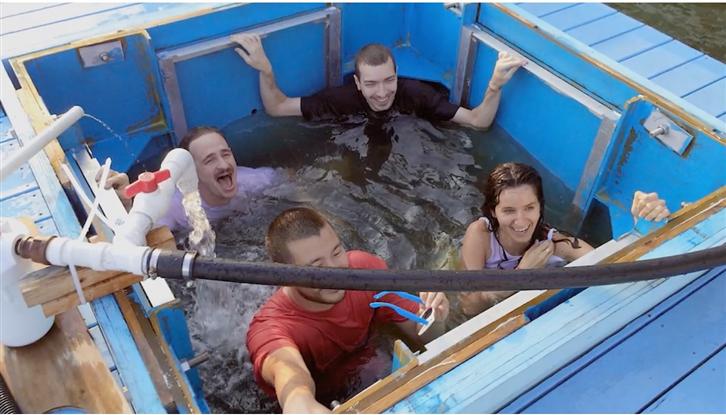 ▲ Hard work has paid off, and the filtration system finally produced swimmable water quality. (Photo of the floating test lab).
Success is not solely on me, find the right direction and assistance to succeed
Even with the successful experiment, we still have a long way to go for the +Pool. After seven years of the team's dedication, Heineken joined the project in 2017, and listed it as a "City Project", one of Heineken's many city renovation plans.
Over that past few years, Heineken has shift the focus of its marketing campaign to "Open Heineken, Open Your World". In response to the demands of the digital age, consumer behavior has changed from relying on mass media to spending more time on social media. While the traditional video advertisements remain under the overall Open Your World campaign, the company also eagerly hosts and sponsors concert and sports events, and its City Project is another important piece of the complete puzzle of Open Your World. All of the efforts above were made to reinforce the concept "Open Your World".
The USD $100,000 donation to +Pool is merely a tiny portion of Heineken's marketing budget; any advertisement would have consumed all that money. On the other hand, +Pool has a positive image and is beneficial to society and mankind, and the money is well-spent whichever way you look at it!