The highly anticipated, cross-generation NO. 1 mobile game "Lineage M" officially launched the servers today. The game was created by the Korean gaming giant NCSOFT and distributed by Gamania. Gamanis also has 2 Taiwan hero celebrities to endorse "Lineage M": Chen Chin-Feng and Tai Tzu-Ying. The athletes are a perfect match for the games megastar status. Since the pre-registration begun on October 10, which is Taiwan National Day, 2.5 million members have signed up and broke the record in Taiwan. Chen Chin-Feng and internationally renowned designer Aaron Nieh attended the press conference on December 11 to announce the astonishing first-day results and celebrated the official server launch of "Lineage M".
▲ Official launch of "Lineage M"; Gamania Chairperson, NCSOFT CEO Kim Tack-Jin, and two Taiwan heros jointly announce their participation in the Blood Oath.
▲ Taiwan baseball hero Chen Chin-Feng and genius designer Aaron Nieh together on stage for the first time to promote "Lineage M" and share their thoughts and pride about "Lineage M" "More than just a game".
"Lineage M" team found the perfect fit as the game has a similar background as our Taiwanese heroes.
17 years ago, the online game "Lineage" defined a new era in the gaming industry with its glorious performance. It started a new gaming business model with Internet cafés and game points. 17 years ago, Chen Chin-Feng also began to step onto the international stage. Just as the gaming industry breakthrough driven by "Lineage", Chen Chin-Feng wrote Taiwanese baseball history as a next-generation baseball player starting in Major League Baseball. Another legendary figure in "Lineage" is closely related to Chen as well: in order to become the sought-after Death Knight, a player has to reach level 52, which is the only jersey number worn by Chen throughout his baseball career. As an incarnation of a Knight in "Lineage M", Chen indicated "A knight is a pioneer, someone with sufficient preparation and the courage to fight. I am honored to have the opportunity to represent this class. It has always been my objective. 'Lineage is more than just a game.' For me that means to defeat the opponent on the baseball field and fulfilling my dream."
The Legend Continues: Tai Tzu-Ying joins endorsement of "Lineage M"
"Lineage M" was created after the legendary success of "Lineage". After the success of Chen Chin-Feng, Badminton champion Tai Tzu-Ying won the first gold in the Asia Championships for Taiwan and Hong Kong Super Series twice, and became the Badminton World Federation (BWF) female champion for 53 weeks. Tai Tzu-Ying said "'Lineage, more than just a game' is a saying that resonates with me. In the game's world, players attempt what they don't dare to do in real life. My purpose is to perform my best on the court and do what I love; let the world see Taiwan."
Chen Chin-Feng, Tai Tzu-Ying – Sports Heroes Become Lineage Heroes
"Lineage M" is endorsed by two Taiwanese star athletes, who, like Lineage, has had brilliant careers that became history filled with pride and shared with all of Taiwan. The athletes joined Gamania CEO Albert Liu and NCSOFT CEO Kim Tack-Jin to announce the server launch performance today, and spoke about their gaming experience. Chen Chin-Feng mentioned that his favorite character is the knight. Tai Tzu-Ying could not attend due to a concurrent competition, but congratulated all for the instant success of "Lineage M" through live streaming. She also welcomes everyone to step into the Aden World and compete in "Lineage M".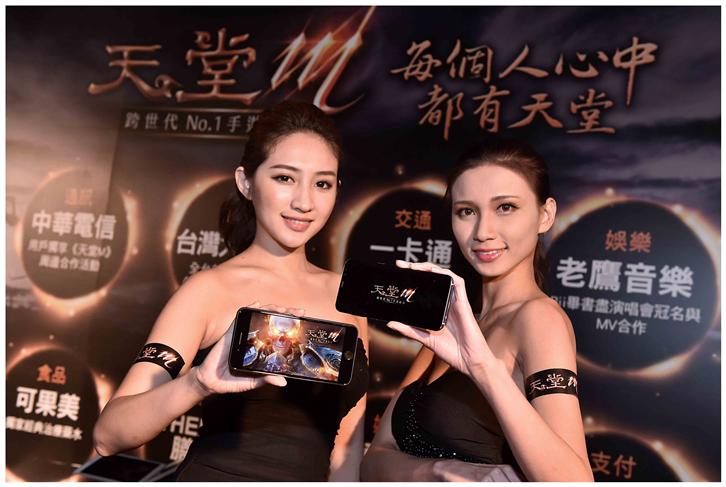 ▲ Original "Lineage" elements in client game "Lineage M" will surely bring back nostalgic memories for fans.