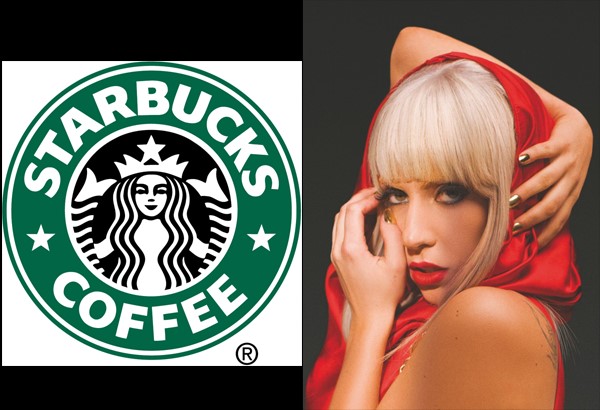 The two of most vibrant and active "brands" in the world: Lady Gaga who has over 36 million fans following her on Facebook and Starbucks with 22 million fans. What sparks would they ignite when they collaborate?
In May 2011, Lady Gaga launched her much anticipated new album, Born This Way, comprising over dozens of brands such as Starbucks, Google, Amazon, members-only Luxury website, Gilt, Tapulous (music&game), Robin Hood (charity group) and Zynga etc, among which, the most interesting collaboration were the ones wih Starbucks and Zynga.
Lady Gaga + Starbucks = SRCH ( Search )
Starbucks and Layd Gaga jointly held a SRCH treasure hunt game combining the internet and the real world. The game consisted of 7 puzzles and each will be announcing weekly. The one who solves the puzzle will gain prizes such as USD 10 on-the-go card, USD 25 iTunes voucher or earphones from Heartbeat etc.
The level of difficulty isn't high but it does take time to solve the puzzle. The answers all revolve around Gaga's new album. Take the puzzle for the 2nd round for example, the first clue was "yrolg f_egde I dna uoy lepahc…" which no one really understands but after decoding it, you'll realize that it's a song from Born This Way album written backwards. After you fill out all the blanks in the puzzle, you would get "OIBREHHCRS" which reads "Srch Her Bio" backwards. After you enter into Lady Gaga's official website and click on her official bio, you will encounter an odd sentence, "SRCH WAS HERE" which is a link you can click on. It will redirect you to a picture of "certain Starbucks" on the fans page where you need to find out where exactly that branch locates in. Using "East 41" on the picture as a clue and use it to search on the official website of Starbucks then you will know the exact location of this branch. After you click on it, the grand prize would be yours. However, you need to be fast because only the top 100 winners would get this prize.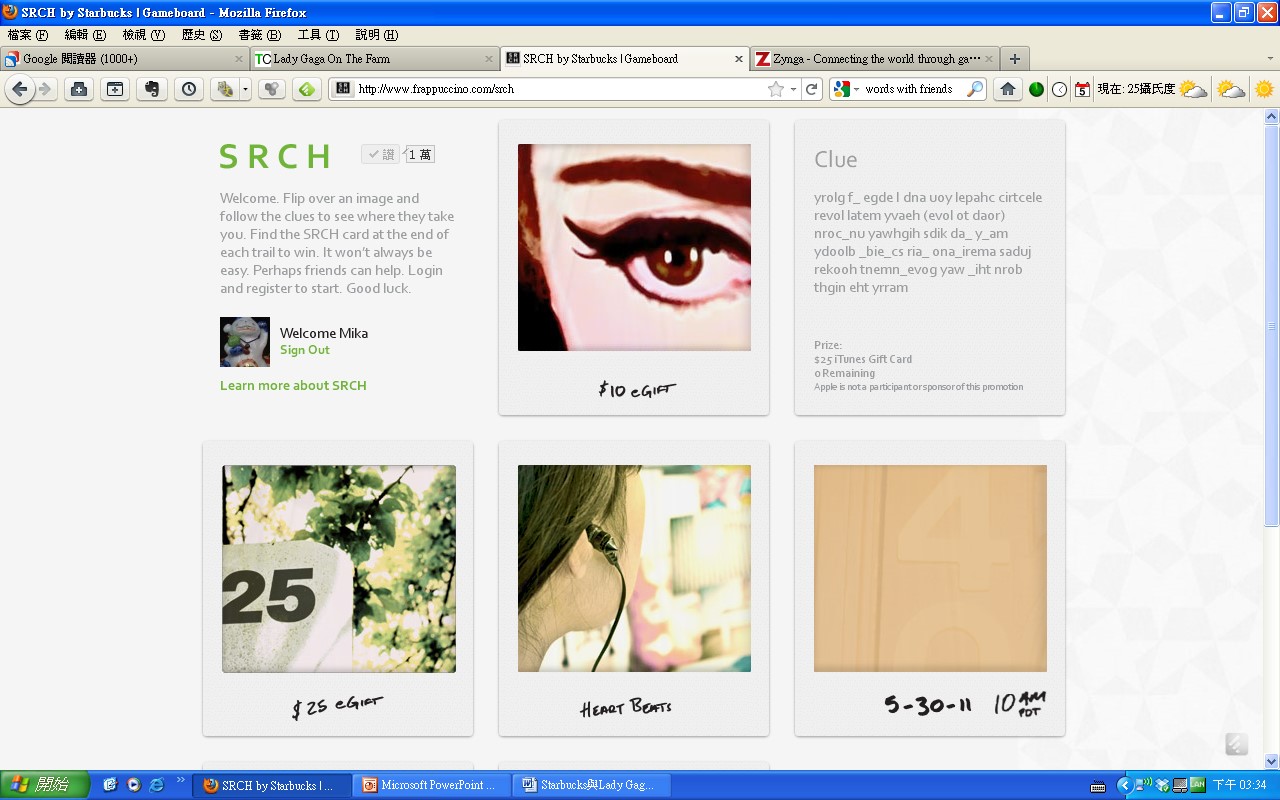 ▲Different puzzles were introduced and each with various clues for you to solve. http://www.frappuccino.com/srch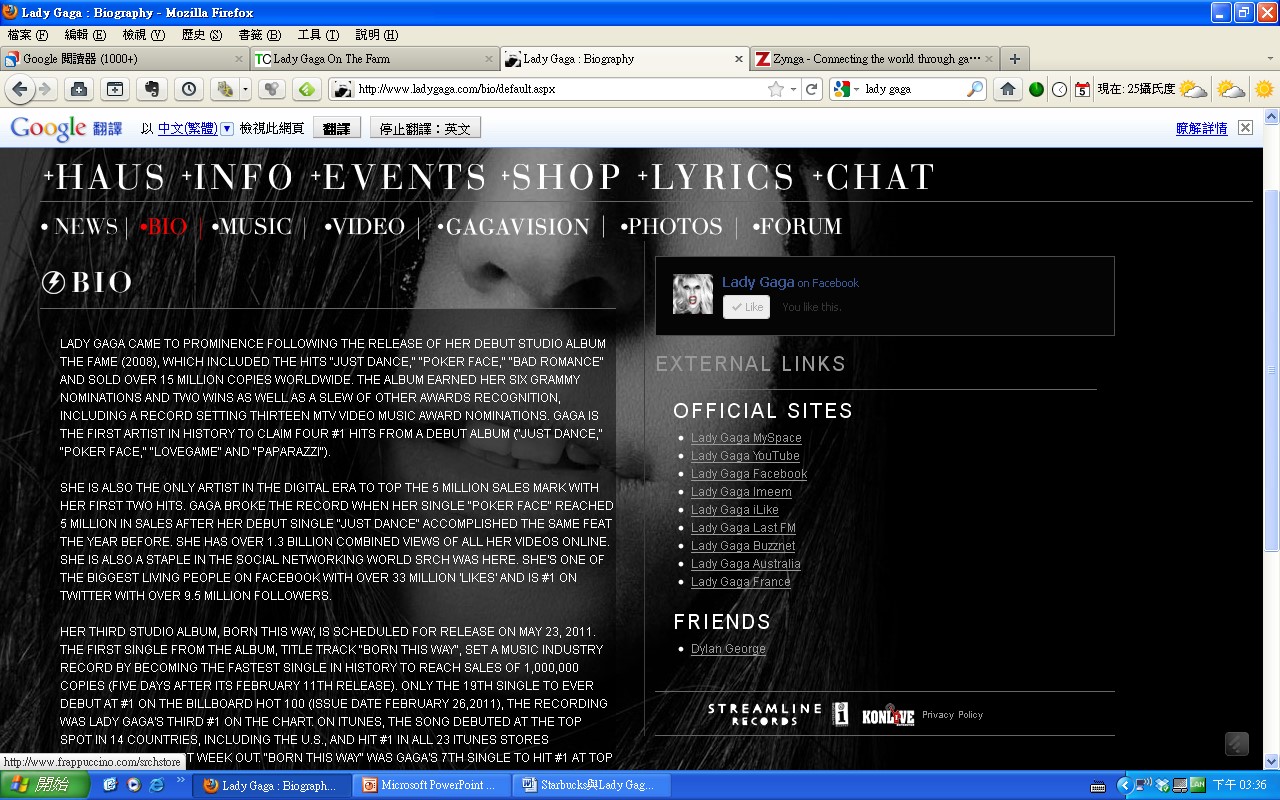 ▲You need to find "SRCH WAS HERE" in this densely written bio of Lady Gaga.http://www.ladygaga.com/bio/default.aspx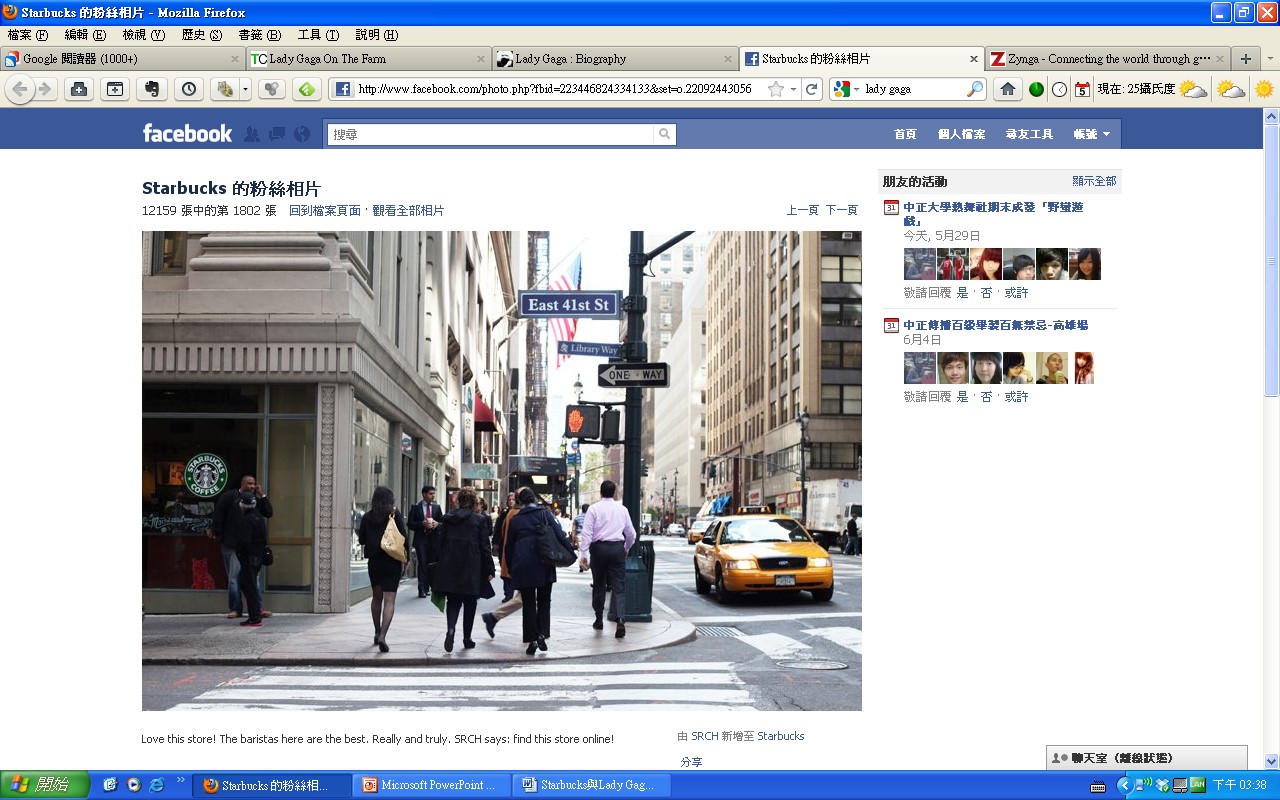 ▲Look for the next clue in the picture. http://www.facebook.com/photo.php?fbid=223446824334133&set=o.22092443056
Lady Gaga + Zynga = Gagaville
Lady Gaga's charm is so overwhelming that even the hottest game on Facebook, Farmville can't help but collaborate with her. Zynga developed a series of bizarre crops and animals that match with the style of Lady Gaga's latest album and even made a short commercial film about it. As long as you could finish the mission with 24 hr of time, you could win exclusive prizes such as sheep that rides motorcycles or covered with crystal, a horse with Gaga's hair style or unicorns etc.
This 10-day campaign consisted of different tasks/missions for you to solve every day. For example, as long as you visit Gagaville, possess 3 VIPs, visit three neighbors then you could unravel a new song, gain motorcycle sheep and 100 points on experiences and NT2500. That is to say, if you do it by the campaign you could listen to all of the new songs from the album.
Lady Gaga remains to be one of the most exciting and antipated singers around the world. I'm sure her album would still be a hit even without any collaboration. But the reason for her dedicated promotion has largely to do with her securing her status of being the diva of "Fashion, Topic and Trend". Because of what she's done, her existing fans love her even more and the new joined consumers get to know her beyond her music. This is how Lady Gaga rocks the world– Lady Gaga style!
http://www.zynga.com/ladygaga/gaga.php




About Author
Mika, Internet Marketing Observer
Born in the 60s, Mika has worked in the field of consumption marketing for decades. He experienced brand strategy, product concept all the way to official launch. He cars about traditional marketing model as well as the changes arise from Web2.0 and social media. 
jabamay.blogspot.com