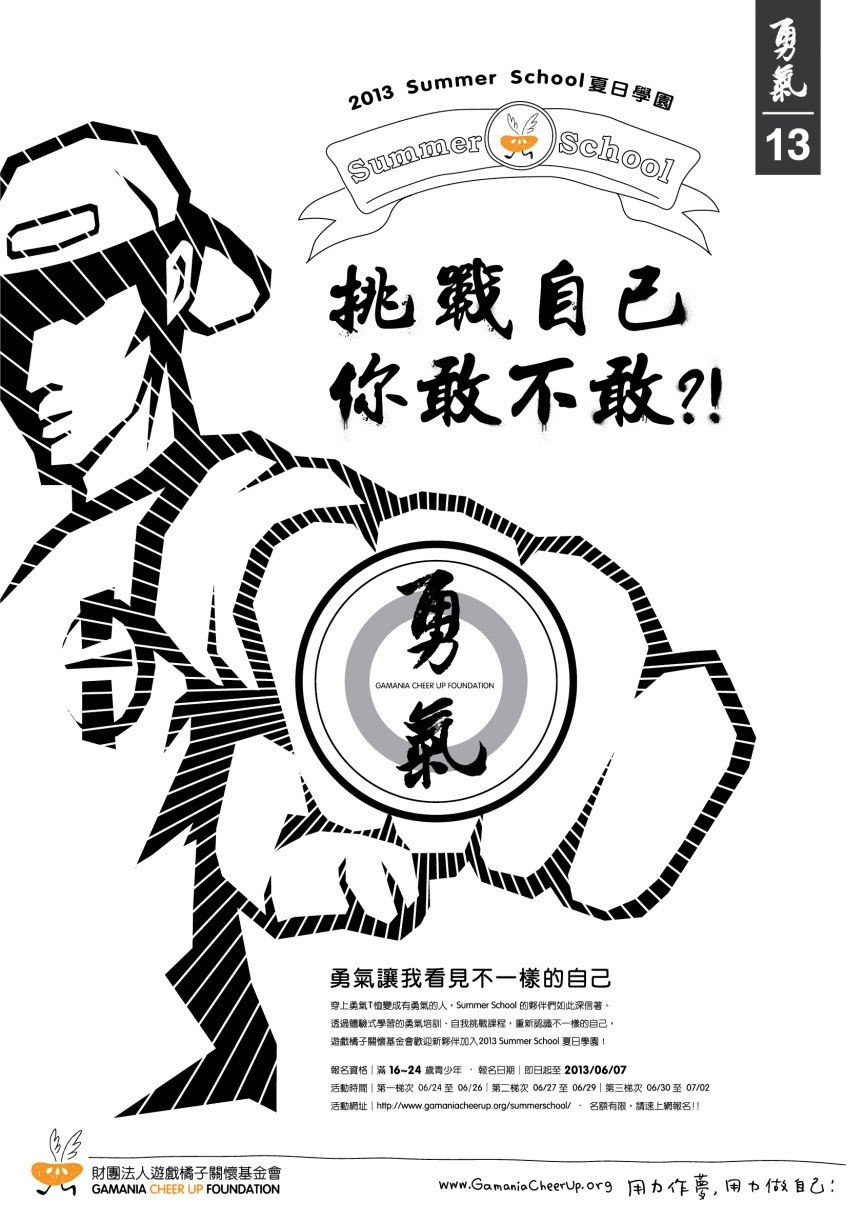 Bring out the Courage within You! !
The students of the Gamania Summer School believe that, the minute they put on their Courage T-shirts, they are ready to stand up for what they believe in.
This is a program that welcomes you bring out your potentials through various trainings and fun activities.
Join the 2013 Gamania Summer School project now!
About the Gamania Summer School:
In 2009, The Gamania Cheer Up Foundation started the first "Gamania Summer School" project with the central motif of Courage. We encourage young adults to pursue their dreams by owning up to them, and to not be afraid to dream wild, dream far, and dream big. Every year, we recruit participants from everywhere and offer them the best training program sponsored by the Cheer Up Foundation. Our members not only get to give back to the community, but also have a chance to explore themselves from different angles.
(Tell everyone you know about this great event!)
About the event:
Time: Now until Jun. 7th, 2013
Age: 16 – 24 (with no prior summer school/camp experience)
Members: 40 participants for each class, 120 members in total. Don't miss it, Sign up online now! !
Training Program:
l Class 1: Jun 24th – Jun 26th, 2013
l Class 2: Jun 27th – Jun 29th, 2013
l Class 3: Jun 30th – Jul 2nd, 2013
Fee: Free (A deposit of 1,000 NTD is required and will be refunded upon full participation in the program.)
Official Site: http: //www. gamaniacheerup. org/summerschool/index. htm
2012 Summer School Video :